Labosport Launches Fiber Performance Index
FPI is the synthetic turf industries first true measurement of fiber quality.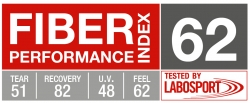 Le Mans, France, November 21, 2015 --(
PR.com
)-- Responding to the needs of architects, facility owners and operators, Labosport is proud to introduce Fiber Performance Index (FPI) – the first true measurement of fiber quality. As part of the Labosport Certification Program, FPI establishes an "index" – the rating or score of an artificial turf fiber, to help prospective turf buyers understand and weigh the individual qualities of a turf fiber. FPI provides a comparative measuring tool to help architects, facility owners and operators make the right artificial turf selection from a wide number of options.
FPI was carefully designed by Labosport to quantify the 3 key aspects of a fiber that are most important to those purchasing a sports field: Durability, measured by UV exposure and fiber wear resistance; Resilience, measured by the recovery of the fiber after compression; and Softness, measured by the feel of the fiber.
The fiber is measured after having undergone a battery of tests and graded on a scale of 1 – 100 in each category. The result is a final FPI, the Fiber Performance Index, which describes the overall fiber quality.
"FPI provides a standard of measurement of fiber quality that will allow the consumer to make a decision based on proven product performance as opposed to marketing. We, at Labosport, strongly believe that FPI will revolutionize the way we look at turf fiber," said Aurélien Le Blan, CEO of Labosport.
For over two decades Labosport has been pioneering the sports testing industry and is an accredited test institute to all major sports federations. Labosport is recognized as one of the leading companies involved in synthetic turf testing and technical consulting.
About Labosport
Established in 1993, Labosport is the worldwide leader in the niche market of sport surface certification.
Labosport has developed a strong multi-disciplinary team dedicated to sports surfaces and equipment with expertise in engineering, agronomy, chemistry and materials science.
Contact
Labosport International
Xavier Nicolau
+33 6 95 10 35 52
www.labosport.com

Contact