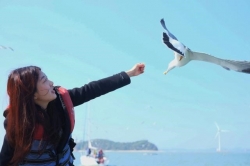 Jakarta, Indonesia, December 02, 2015 --(
PR.com
)-- Gyeonggi Tourism Organization of Korea has been provided a student ambassador program that offers farm tour opportunities to international students living in Korea. The members of this program are called 'GG Supporters'.
One of the GG supporters, Anita Limanjaya from Indonesia (25, Female) is currently in the doctoral program in Korea. She has traveled the Gyeonggi province in Korea for a year in 2015 as a member of GG supporters, and introduced attractions about the area. She has special story of visiting Korea. Her grandmother is a Korean who migrated to Indonesia long time ago. Living in a country far away from hometown, she has always shown fondness towards Korea and wondered about Korea. She fell in love with Korean culture finally. In 2014 she entered the doctoral course in Inha University with a full scholarship. And now she enjoys her life in Korea.
She is good at taking photos and videos in GG supporter group. She uploaded lots of pictures taken during her trip on Facebook, Instagram and her blogs in English and Indonesian. So people from other countries can get information about travelling in Korea.
She chose 'Heyri art village' in Paju as the most memorable place that she has ever visited.
"It is not only located near the biggest city, but also it is beautiful with nature and architecture," said Anita Limanjaya. "I am so happy to experience many locations for a year as a GG Supporter. I want to keep travelling Gyeonggido even after the GG supporter program finishes," added Anita Limanjaya.