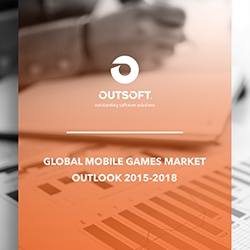 Knoxville, TN, December 01, 2015 --(
PR.com
)-- Outsoft Corporation has publicly released a white paper on the state of the global mobile games industry with the most relevant trends and market value forecast through 2018.
The paper will be a valuable companion for game industry participants, investors, journalists and the general public interested in developments shaping interactive entertainment.
Issues and topics presented in the report cover years 2015 through 2018 and offer industry insights such as:
Which devices and platforms are poised to dominate within the mobile games industry space (and which devices are expected to be falling out of favor)
Whether smartphones or tablets will dominate within the Mobile space
Which global markets are saturated and have developed competitive barriers, and which are ripe with opportunities
Why Android and iOS are both relevant, and how the platforms differ
In-depth gamer profiles: who are the gamers which groups determine gaming studio success (or failure)
The report is free and can be downloaded via the following
link
.
About Outsoft
Outsoft
is a software development service provider filling technology gaps for a variety of industry verticals with a passion for cross-platform mobile game development. Outsoft is headquartered in Knoxville, Tennessee and operates research and development centers in Europe, including in Kyiv, Ukraine.