Gilbert Gordon, Ph.D., Inorganic Chemistry Recognized as a Lifetime Professional by The National Alliance of Male Executives-N.A.M.E.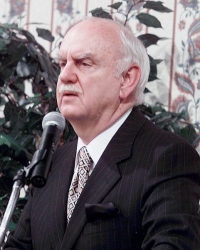 Oxford, OH, December 05, 2015 --(
PR.com
)-- Gilbert Gordon, Ph.D., Inorganic Chemistry of Oxford, Ohio has been recognized as a Lifetime Professional by the National Alliance of Male Executives-N.A.M.E. for his outstanding contributions and achievements in the fields of education and chemistry.
About Gilbert Gordon, Ph.D., Inorganic Chemistry
Dr. Gordon is an internationally renowned chemist. He is Professor Emeritus at Miami University in Oxford, Ohio. He specializes in drinking water research, dynamics of chemical reactions (chemical kinetics), reactions of chlorine dioxide, chlorine and ozone (disinfectants and oxidizing agents) and all aspects of analytical chemistry. Dr. Gordon is a Principal of Gordon & Rosenblatt, LLC, New York, NY (G&R). G&R is an independent consulting firm formed with his partner, Aaron Rosenblatt, who is Co-Founder of the firm. It specializes in matters involving chemical disinfection that advises clients on matters pertaining to chlorine (bleach), chlorine dioxide, ozone, monochloramines and related oxyhalogens, with an emphasis on water treatment. Important G&R practice areas include municipal drinking water treatment and decontamination/microbial risk management of premise plumbing. Dr. Gordon and G&R co-founder Aaron Rosenblatt have worked together in a series of collaborations over more than thirty-five years. Their complementary capabilities provide an unusually powerful resource for addressing complex, multidimensional issues involving science, technology and regulation-compliant application of ozone, chlorine dioxide and other oxy-halogen species. Their work often involves the control of microorganisms that can cause disease (infection), destroy critical infrastructure (corrosion) and compromise products and processes (biofouling).
Dr. Gordon began his career with the University of Maryland, serving as an Assistant Professor from 1960 to 1964, an Associate Professor from 1964 to 1967 and as a Professor in 1967. He continued as a full Professor with the University of Iowa from 1967 to 1973, traveling overseas as a Visiting Professor and guest of the Japan Society for the Promotion of Science during 1969 and 1984. He was both a Professor and Chair with the Department of Chemistry at Miami University from 1973 to 1984 and served as the Volwiler Distinguished Research Professor from 1984 to 2003. Dr. Gordon has served as a Distinguished Research Professor Emeritus since 2003.
From 1994 to 2009, Co-Founder Aaron Rosenblatt was the chairman of CDG Technology, Inc. and CDG Research Corporation. Previously, he was the founder of The Scopas Technology Company, a chlorine dioxide research and development firm. Mr. Rosenblatt is the inventor or co-inventor of 20+ U.S. patents, patents pending and corresponding foreign patents. He is also the author of a number of scientific and technical papers on chlorine dioxide. He belongs to several professional associations affiliated with the industry.
Dr. Gordon has received numerous honors and awards during his career including Chemist of the Year in 1981, and Distinguished Scientist in 1982, both from the American Chemical Society. He was the Sigma Xi Researcher of the Year from the Miami University Chapter in 1982. Dr. Gordon was the Bradley University Distinguished Alumnus of 1986 and received the Prestigious Miami University Benjamin Harrison Medallion in May 1993 for Outstanding National and International Contributions to Education and Research. He received the Bradley University College of Arts and Sciences Distinguished Alumnus Award in 2001 and the Miami University Distinguished Scholar Award in Recognition of Outstanding Achievements in Research and Scholarly Achievements in August 2002. He received the Morton Klein Award from the International Ozone Association in recognition of contributions of the highest order in commemoration of the life and contributions of Morton J. Klein in 2011. A 2011 paper he co-authored on "Perchlorate, Bromate and Chlorate in Hypochlorite Solutions: Guidelines for Utilities", (J. Am Water Works Association) was the American Water Works 2012 Publications Award winner for papers published by the Association in 2011. It was voted as the best overall paper chosen from among the top papers from each of the AWWA Research Divisions over the previous twelve months. In 2009, Dr. Gordon co-authored and presented papers at four different conferences/symposiums in the drinking water industry. He has also received awards for his excellent teaching at the graduate and undergraduate level. He is a member of many organizations and societies in the science and chemistry fields including the American Chemical Society, American Institute of Chemists, the American Water Works Association, the Chemical Society of London and the Ohio Academy of Science. He is a Life Member of Phi Kappa Phi, Omicron Delta Kappa and Sigma Xi.
Dr. Gordon received a B.S. in Chemistry from Bradley University in 1955, a Ph.D. in Inorganic Chemistry and Mathematics from Michigan State University in 1959 and did Postdoctoral studies at the University of Chicago in 1960. He has served as a Professor since 1967 with many prestigious universities. During his 45 year research and teaching career, Dr. Gordon has taught more than 10,000 undergraduate students, has published more than 200 peer-reviewed papers describing research with his graduate students, post-doctoral research associates and other research colleagues. He has presented more than 400 research papers at national and international meetings. Dr. Gordon's accomplishments include co-authorship of the landmark treatise, The Chemistry of Chlorine Dioxide (Gordon, Kieffer and Rosenblatt, 1972), and groundbreaking chlorine dioxide research that formed the basis for advanced disinfection practices used extensively by the water treatment industry throughout the world. His lifetime body of research and his current research have a major impact on the teaching of chemistry, on drinking water industry practices and on the prevention of disease and injury associated with premise plumbing.
Dr. Gordon is married to Joyce and they have two children. In his spare time he enjoys wine tasting, evaluation and collecting.
For further information, contact
www.gordonrosenblatt.com
.
About National Alliance of Male Executives-N.A.M.E.
N.A.M.E.® is a unique online association for male executives and professionals in all industries. This premium service and alliance recognizes male professionals who have achieved success as well as those looking to further their careers and expand their business opportunities by providing networking, advertising, marketing and entertainment services. For more information about their unique services and testimonials, visit their website at www.name-exec.com.
Contact
N.A.M.E.-National Alliance of Male Executives
Katherine Koop
516-272-4494
www.name-exec.com

Contact