Investor Sentiment Drives Capital Market Indicators Down While the Private Company Index Remains High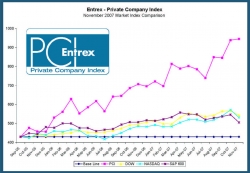 Chicago, IL, December 20, 2007 --(
PR.com
)-- November Private Company Index (PCI) data indicates that its diverse subset of $5-100 Million private companies have seen a consistent level of revenue since August; negating the opinions of economic pundits who foretold a tough patch for the economy during the second half of 2007.
The November 945 Index reading reflects only a 1% increase from October but more importantly shows that the Index is cresting at an all time high. This solid performance from the PCI comes during a period when traditional capital market indicators (NASDAQ, DJIA, and the S&P Small Cap 600) were down anywhere from 4 to 7.5% for the month.
The PCI, a proprietary index launched in 2005 by Entrex, an Entrepreneurial Exchange, tracks monthly revenue trends from a diverse portfolio of private sector companies throughout North America. The PCI has long promoted the lack of correlation between the sector they measure and the public financial marketplace.
Stephen H. Watkins, CEO of Entrex Inc., explains, "Essentially, the erratic market behavior throughout 2007 provided the opportunity we needed to illustrate that the trends in the public space don't necessarily translate to overall business activity. People are still buying goods and services from private companies, 'Main Street businesses' if you will, when public market measures are spreading doom and gloom. A stock, or priced unit in the public markets, sees a change in value based only on investor sentiment, and is not generally an indicator or how a company is earning or being effectively operated. It serves as an entirely separate measure."
Watkins adds, "It's easy to get caught up in the news coming from Wall St. But, who does it really affect on a daily level outside the financial industry? Even during extreme market swings average people, with medium to long term investments and stable jobs, see virtually no change in their daily life or the resources available to live it."
For more information, visit www.privatecompanyindex.com.
###
Contact
Entrex/Private Company Index
Erika Conefry
877-436-8739
www.privatecompanyindex.com

Contact