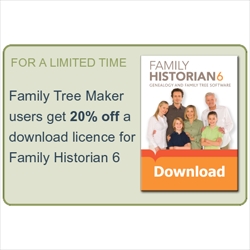 London, United Kingdom, December 11, 2015 --(
PR.com
)-- Following the recent announcement by Ancestry that Family Tree Maker, will be discontinued, Calico Pie has today offered a 20% discount off the price of download licences for Family Historian 6, to users of Family Tree Maker. The offer is open until the end of January 2016.
Family Tree Maker users who wish to take advantage of this offer should visit http://www.family-historian.co.uk/ftm and follow the links. Calico Pie's CEO, Simon Orde, has promised a warm welcome to Family Tree Maker users looking for a new home. "We're getting a lot of enquiries from Family Tree Maker users. We've put up a Frequently Asked Questions page for FTM users. We encourage everyone to download the Family Historian trial and try it out for themselves. If you have questions we encourage you to join the Family Historian User Group website and post them there. All the information and links you need are on the http://www.family-historian.co.uk/ftm page, or the FAQ page linked to it."
Family Historian is a powerful, desktop genealogy program for Windows. It has frequently come first in group comparison tests of top genealogy programs, including emerging as the group test winner in the last two comparisons tests performed by Which? Computing, the prestigious consumer magazine. It has won a Top Rated Genealogy Software award every year for the last four years from GenSoftReviews. It recently won an award from Your Family Tree magazine in a review that heaped praise on the program, concluding: "The crown for best PC software belongs to Family Historian 6 for 2015!"
Family Historian 6 runs on Windows 10, 8.1, 8, 7 or Vista.