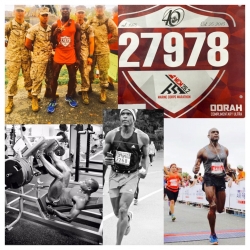 Washington, DC, December 19, 2015 --(
PR.com
)-- Dr. Clayton Lawrence, LEAP CEO and President, has led Lawrence Executive Alliance of Professionals (LEAP) with a clear mission to improve the state of our nation's healthcare systems for patients and medical facilities globally. While the medical staffing company has been recognized and has won a number of awards for its services, it is Lawrence's executive healthcare leadership and military background that has helped firmly establish him as a fitness expert in the Washington, D.C. community and abroad, and thus, helped him to always lead by example when demonstrating what true health and wellness should look like in daily life.
Dr. Lawrence's tenure as an officer in the United States Army laid the groundwork for his standards of physical fitness, as well as the mental strength required to complete intense physical training. His interest and participation in endurance sports began in 2011, when he began training for marathons that would support various charities, foundations, and noteworthy causes. Year after year, Lawrence has ramped up his personal training to complete more races, log more miles, and most importantly, push himself further than ever before for some of the most important causes of our time.
In 2015 alone, Lawrence completed 2000 miles. His successful training regimen consists of a unique blend of bodybuilding and strength training, coupled with running and endurance exercises. Though most body builders avoid endurance training and sports, stating that it often compromises the gains in muscle mass that they are trying to achieve, Lawrence has found an intense combination of exercise routines, with an emphasis on rest and proper nutrition, that allow him to achieve high levels of endurance for marathon participation, as well as the significant gains in muscle mass that he seeks.
"Though my entire life has revolved around health," Lawrence stated. "Marathon sports were about fueling the body to properly perform activities that most human beings would never attempt. It was about finding out what I was capable of when I fully enlisted my mind and body to compete, and it was about pushing myself to perform and attempt to inspire and represent those who could not accomplish those feats themselves."
Since 2011, Dr. Lawrence has earned 70 medals for participation in marathons, half marathons, and 5K/10K races. These medals have been earned in 15 different states and 5 different countries. With its non-profit partner, LEAP Foundation DC, helping draw attention to the many charities it helps support through these races, every medal earned and race completed helps place a bigger emphasis on LEAP's ultimate mission of inspiring and empowering people to proactively live healthier and happier lifestyles, which in turn creates a healthier and happier society altogether.
Dr. Lawrence and LEAP continue to thank the Washington, D.C. community, the small business communities, the non-profit communities, and the health and fitness communities that consistently support their efforts to remain leaders in the arena of health and wellness. To learn more about LEAP, LLC, please visit
www.leap4staffing.com
.