Keith C. S. Siu Recognized as a Distinguished Professional by The National Alliance of Male Executives-N.A.M.E.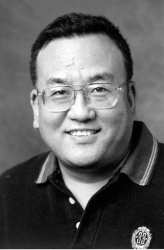 Honolulu, HI, December 22, 2015 --(
PR.com
)-- Keith C. S. Siu of Honolulu, Hawaii has been recognized as a Distinguished Professional by the National Alliance of Male Executives-N.A.M.E. for his outstanding contributions and achievements in the government field.
About Keith C. S. Siu (SEE-YOU)
Mr. Siu is the Courts Records Management Supervisor with the Hawaii State Judiciary overseeing a staff of 10. He manages the records management program overseeing the records of the courts statewide. He provides consulting on all records management matters. Mr. Siu is affiliated with ARMA International, serving as chairman of the U.S. Government Relations Committee. At his urging, ARMA International established the Judicial Administration Industry Group, becoming its first chairman. He serves on the Board of Trustees of AIEF (ARMA International Education Foundation). He was the lead author on the publication "Essential Elements of Local Government Records Management Legislation" in 2000. Mr. Siu served on the board of directors for the HGEA (Hawaii Government Employees Association). Mr. Siu was recently recognized by the Hawaii State Judiciary for 30 years of government service. He was also recognized by the ARMA International for his work in leading the effort towards passage of the "Paperwork Reduction Act of 1995". He received the Outstanding Alumni Award from the University of Hawaii-West Oahu and a Certificate of Appreciation from the U.S. Probation Office, District of Hawaii. As a side note, a pastry was named after him called "Siu's Sweet Streusel Bread."
Mr. Siu was born in Hawaii and obtained a M.P.A. in Public Administration from Central Michigan University in 1994 and is a candidate for the CRM (Certified Records Manager) certification from the Institute of Certified Records Managers (ICRM). In his spare time he enjoys Disney and Star Trek.
About National Alliance of Male Executives-N.A.M.E.
N.A.M.E.® is a unique online association for male executives and professionals in all industries. This premium service and alliance recognizes male professionals who have achieved success as well as those looking to further their careers and expand their business opportunities by providing networking, advertising, marketing and entertainment services. For more information about their unique services and testimonials, visit their website at www.name-exec.com.
Contact
N.A.M.E.-National Alliance of Male Executives
Katherine Koop
516-272-4494
www.name-exec.com

Contact