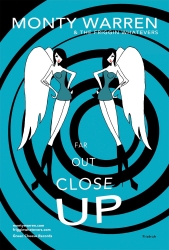 Palm Beach, FL, December 23, 2015 --(
PR.com
)-- Artist: Monty Warren & the Friggin Whatevers
Title: Far Out Close Up
Release Date: 12/18/15
Genre: Roots Rock / Country Rock
Producers: Monty Warren & Chris Taylor (Green Cheese Records)
Hometown: Raleigh, N.C./West Palm Beach, Fla.
Booking Contact: Monty Warren (561) 762-3009 (monty60@icloud.com)
Press Contact: Roadmap Communications (memoircity@gmail.com)
Website:
http://www.montywarren.com
Media Kit: http://montywarrenmediakit.blogspot.com
Available at Amazon; CDBaby; SoundCloud
The Palm Beach Post (PBP) has named Monty Warren & The Friggin' Whatevers (MW&TFW) to its "Fave Music List for 2015."
In 2012, PBP music columnist Bill Meredith also named the artists' sophomore album "Let's Go to Therapy" the "Best Rock Roots CD," and their debut album "Trailer Park Angel" "Best Florida Band Roots Music CD of 2008."
"Ever wonder what Bob Dylan, Keith Richards, Paul Westerberg and Steve Jordan would sound like in a band together? Listen to Monty Warren & The Friggin Whatevers." -The Palm Beach Post
The announcement came two days before the Roots Rockers rolled out their third album "Far Out Close Up" on Keith Richards' birthday, Dec. 18.
"'Thrilled' is the only word that comes to mind," said the new album's co-producer Chris Taylor, commenting on the accolade.
"Might as well face it," joked the band's co-producer, head songwriter and front man, Monty Warren. "We're on a roll."
So who is Monty Warren?
A 2008 interview with Country Standard Time's Rick Cornell put it best: "What if, instead of heading for L.A. in the '70s in pursuit of a record deal, Tom Petty put his rock 'n' roll dreams on hold to support his mother for 20 years until she passed away?" In a nutshell, that is Warren's story.
After learning his divorced mother was living in her car while he was at Emory University in Atlanta, Warren vowed to become a successful attorney so she would never go hungry again. His "Grace of God" pays homage to her, and is, in his words, "The most direct song on the record":
"Mama grew up in a Depression / 10 years old in '32 / Left this world with one confession / 'There but for the Grace of God go you.'" -Monty Warren, "Grace of God"
In 2007, Fate brought Warren face to face with seasoned musicians Terry Anderson & The Olympic Ass-Kickin' Team ("Battleship Chains" and "I Love You Period"). After hearing the songs on Warren's demo, they insisted on helping him make his first record, "Trailer Park Angel."
And the rest, as they say, is Roots Rock history.
Monty Warren: Vocals, Guitars, Bass, Harmonica
The Whatevers: Chris Taylor: Bass, Guitars, Pedal Steel, Percussion; Ryan Weidenfeld: Drums, Percussion; John Beemiller: Guitars; Phil Wolff: Vocals, Guitar; Dayna Blitz: Vocals; Dave Bartholomew: Drums; Keith Christopher: Bass; Victor I. Reyes: Harmonica; Jesse Huebner: Bass; Bill Meredith: Drums (Album Cover Art: Paul Friedrich)