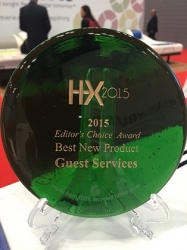 Davie, FL, December 30, 2015 --(
PR.com
)-- Atmospheric Water SolutionsTM ("AWS"), a wholly owned subsidiary of Aquarius BrandsTM, the industry leader in producing and distributing "water-from-air" systems, received the "2015 Editor's Choice Award - Best New Product" at the HX The Hotel Experience Show (formerly the International Hotel, Motel and Restaurant Show). The winning product was the company's solar powered AquaBoy®; a home, office, or off-grid system which produces between two to five gallons of purified water per day. The electricity can be provided by the company's RetraxTM solar panel array, which is a preassembled retractable solar system which comes in 1, 3, and 5 kW configurations.
The AquaBoy® is the company's flagship product sold in over 30 countries. The unit condenses humidity in the air and processes it through a patented multi-filtration system delivering the purest water in the world without any chlorine, fluoride, or heavy metals commonly found in tap and bottled waters. The unit is UL approved and uses on average only 372 watts per hour.
RetraxTM is a patented transportable and retractable solar system that eliminates lengthy and non-transportable installations as all panels are movable, pre-wired and fully integrated with an inverter on every panel. Panels are shipped folded tightly together in an accordion-like rack with wheels. To install, you simply roll the system out until it is flat and then plug-and-play. If the system needs to be stowed, it rolls back into its carriage like an accordion in minutes.
About Atmospheric Water Solutions, Inc.
One of the original patent holders of atmospheric generation technology developed in the late 1990s, AWSTM produces systems that make purified water from air through their patented process of condensation collection, filtration, storage and distribution he systems come in all sizes (5 to 5,000 gallons per day) and are scalable by design, or by linking units in series. These machines serve homes and offices, events, oil and gas exploration and production, agriculture, mining, military, hospitals, schools, municipalities, humanitarian efforts and areas with limited water supply.
www.AtmosphericWaterSolutions.com
or www.twitter.com/WaterFromAirAWS
About Aquarius Brands, LLC
Aquarius BrandsTM is a holding company with various subsidiaries and brands, including Atmospheric Water SolutionsTM, DroughtBusterTM, and RetraxTM focused on water conservation, education and generation.
www.AquariusBrands.org