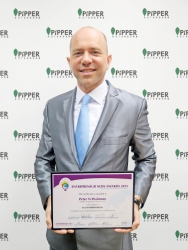 Bangkok, Thailand, January 04, 2016 --(
PR.com
)-- Mr. Peter Wainman, Chairman and CEO of the Thai natural cleaning products company
Equator Pure Nature Co., Ltd
(EPN), has been awarded Eco Entrepreneur at the Entrepreneur NOW Awards 2015 in Bangkok.
The Entrepreneur NOW Awards, determined by Bangkok's Networking Community in partnership with American Chamber of Commerce (Thailand), UNESCO, the Thai-Italian Chamber of Commerce, the Irish Thai Chamber of Commerce, and Yougov, recognize both Thai and international entrepreneurs with businesses in Thailand. By recognizing the top entrepreneurs in Thailand, the awards intend to promote entrepreneurism and attract investors to Thailand and the ASEAN region.
The Eco Entrepreneur is awarded to the entrepreneur who shows "initiative regarding sustainability strategies that encompass every business operation" and whose business minimizes adverse environmental impact. Mr. Wainman and EPN were recognized for product innovation and dedication to maintaining a healthy environment, in both the home and outside environments. Additional criteria for judgment were uniqueness, vision and potential, value in Thailand and ASEAN, eco-sustainability, striking achievements, overcoming challenges, and brand recognition and traction.
For Mr. Wainman, this award is a testament to his and Equator Pure Nature's dedication to providing consumers with a natural, healthy product that is safe for the whole family and the environment.
About Equator Pure Nature
Under the brand name PiPPER STANDARD®, using its patent-pending fermented pineapple technology, Equator Pure Nature produces, markets and sells a line of natural, hypoallergenic certified, biodegradable household cleaning products, including laundry detergent, fabric softener, stain remover and floor cleaner.
Equator Pure Nature seeks to improve people's lives by promoting the replacement of chemical cleaning products with natural, healthy cleaning products, which products EPN believes can both decrease rates of allergies and asthma and decrease the contamination of the environment. EPN believes there is a correlation between the excess use of chemicals and increasing allergy and asthma rates being witnessed throughout the world.
About PiPPER STANDARD
PiPPER STANDARD
is ASEAN's only mass marketed brand of hypoallergenic certified, biodegradable certified, natural cleaning products including laundry detergent, fabric softener, floor cleaner, stain remover, and dish washing liquid. Founded on an unrelenting standard covering consumer safety, product quality, and environmental friendliness, PiPPER STANDARD provides consumers with healthy and effective alternatives to chemical cleaning products.