SolarCraft Becomes 100% Employee-Owned - North Bay Solar Energy Leader Sells to Employees Through ESOP
SolarCraft, a 32 year old North Bay solar energy contractor has announced that it has transitioned to a fully Employee Owned Company, (ESOP).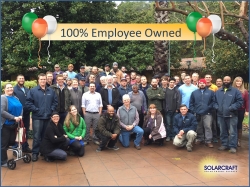 Novato, CA, January 14, 2016 --(
PR.com
)-- Previous owners, Bill Stewart and Dennis Nuttman, plan to remain active in their current roles as President and Director, respectively, for the foreseeable future as the company transitions to a new management team made up of current employees.
"Over the years we have had offers to be bought out or rolled up by newer solar players looking to expand into this area," says Bill Stewart, President, "but it never felt right to Dennis and I because of how it would change the nature of our company that we have built over 30 plus years, and the impact on our current long term employees was unknown. The ESOP seemed to fit our philosophy perfectly, in that the company will continue operating as a local North Bay focused solar contractor. It is also important to us that our current and future customers know that there is a transition plan in place and that SolarCraft will continue to operate for many years to come, with all of our valuable employees now being owners of the business."
An ESOP is a qualified retirement plan that invests in the common stock of the sponsoring company and provides eligible employees with an ownership interest in this company. It is intended to share in and drive increased productivity and profitability, and ultimately an increased stock price from which employee owners will directly benefit.
Every employee now has the opportunity to reap the rewards of any future success created as a team.
SolarCraft had enjoyed a history of success, being one of the most experienced solar energy contractors and retailers in Northern California Since 1984. A certified Marin County Green Business, SolarCraft has earned its reputation as "Solar Energy Experts" by providing excellent solar electric, solar pool heating and solar hot-water consulting, design, sales, installation, and maintenance services for residences, business, agriculture, and government projects. With more than 6,000 satisfied customers and over 3 million square feet of solar collectors installed, SolarCraft is committed to Quality Design, Quality Materials and Customer Service.
www.solarcraft.com
Contact
SolarCraft
Kim Burnett
415-382-7717
www.solarcraft.com

Contact