Lifetime VIP Member Marion Rifkind Named Professional of the Year
Marion Rifkind, of Houston, Texas, has recently been honored as a Lifetime VIP Member as well as being recognized as a Professional of the Year by Strathmore's Who's Who for her outstanding contributions and achievements in the field of Language Translation and Interpretation Services.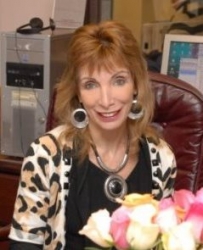 Houston, TX, January 19, 2016 --(
PR.com
)-- About Marion Rifkind
Marion Rifkind has over 35 years of experience in international communications, translation, interpretation, and foreign language services. Ms. Rifkind is the Founder (1971), President, Owner, and Chief Executive Officer of Universe Technical Translation Inc. The company provides foreign language translation, consecutive, simultaneous and telephone interpretation services, multimedia/audio-video translation, narration, dubbing and subtitling in sixty languages. Ms. Rifkind is responsible for overall company operations, major accounts, language classes, cross-cultural training, public relations, customer relations and international operations. She has provided interpretation services for President Vladimir Putin of Russia, U.S. President George Bush, President Nursultan Nazarbayev of Kazakhstan, President Saparmurat Niyazov of Turkmenistan, and President Jiang Zemin of the People's Republic of China. Ms. Rifkind is extremely proud of the Soviet American Chamber of Commerce she founded and renamed the CIS American Chamber of Commerce in Houston, Texas in 1991. She has opened offices in London, England, Moscow, Russian, and Baku, Azerbaijan. Ms. Rifkind was honored in 2009 as the 18th Woman-Owned Fastest Growing Business in Houston. She is the recipient of the Top 100 Diversity Award for Privately Held Business in Texas. Ms. Rifkind is a member of the American Translators Association, the Russian American Chamber of Commerce, the Greater Houston Partnership, World Affairs Council, Houston Interpreters and Translators Association, and the American Translators Association. Her team won the World Affairs Council Trivia World Quest International Trivia Competition several time. She received a B.A. in Russian Studies with a Minor in French and Latin at the University of Manchester in England in 1971. She speaks Russian, French, some German and is currently studying Spanish and Hebrew. Ms. Rifkind represented her company at the first Offshore Technology Conference in Brazil. Ms. Rifkind, originally from the United Kingdom, currently resides in Houston, Texas. In her leisure time she enjoys family activities, tennis, biking, Pilates, yoga, dancing, and cooking.
www.universetranslation.com
About Strathmore's Who's Who
Strathmore's Who's Who publishes an annual two thousand page hard cover biographical registry, honoring successful individuals in the fields of Business, the Arts and Sciences, Law, Engineering and Government. Based on one's position and lifetime of accomplishments, we honor professional men and women in all academic areas and professions. Inclusion is limited to individuals who have demonstrated leadership and achievement in their occupation, industry or profession.
Contact
Strathmore Who's Who
Ann Marie Barone
516-997-2525
www.strathmore-ltd.com

Contact