Rock Star Becomes Film Star - Rock and Roll the Movie to be Released in February
Award winning lead vocalist of Paul Revere and the Raiders becomes film star, director, screenwriter.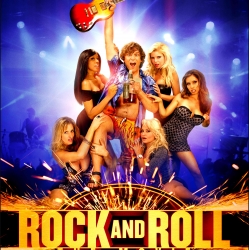 Hollywood, CA, January 21, 2016 --(
PR.com
)-- Rock Star To Film Star -
Award winning vocalist of Paul Revere and the Raiders and filmmaker (Best Vocalist In A National Touring Act - 2010, Best Comedy - Christmas In Hollywood, Action On Film Festival - 2015) Darren Dowler is releasing the feature film comedy Rock and Roll the Movie in February via Uncork'd Entertainment. Dowler wrote, directed, edited, scored and starred in the film. The film was executive produced by Philip M. Cohen of Saddle Ranch Media and being released in association with Dowler's company Rocking and Rolling Films.
The film is about David Roso (Clark Koelsch), a young midwesterner who heads to Hollywood to pursue his dream of becoming a big music agent. Unfortunately Roso is tricked into a bet by his agent idol, William Smythe (Dan Laney), where he must attain a recording deal for an artist within four months or lose his prize possession, a mint 57 T' Bird hand restored by his deceased father. Roso's artist turns out to be Steve Taylor, a drunken, beer bellied ex-rocker from the 80's who hasn't performed in 20 years. And he finds getting Taylor sobered up, cleaned up and ready to rock again in today's market a difficult, hilarious task. The film is in the style of Animal House, Van Wilder and School of Rock. Mara Marini (Parks and Recreation and Blackish) co-stars.
Cohen makes an appearance in the film and recently produced The Road Within with Zoe Kravitz, Dev Patel and Robert Patrick and The Call with Halle Berry. Dowler recently starred in Christmas In Hollywood, Grace of the Father and is in pre-production on a vigilante film, The Territory.
Executive Producers on the film are Philip M. Cohen, Jeffrey Werber, Michael Marcovsky and Christine Birtles.
Producers on the film are Jethro Rothe-Kushel, Sheldon Altfeld, Steffanie Siebrand and Darren Dowler.
The film is represented by by Jeff Goldman of Cardinal XD and distributed by Keith Leopard of Uncork'd Entertainment.
To get more information write to TheActorShop@aol.com.
Contact
Rocking and Rolling Films
Darren Dowler
310-936-1377
darrendowler.com
You can also write TheActorShop@aol.com

Contact