ON the Road with Bon Jovi Hits MaxMouth
Rock Icon's Bon Jovi Kick Off new Web Series "On the Road"; www.maxmouth.com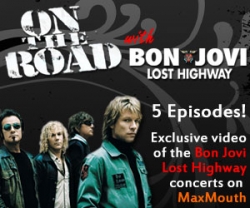 Los Angeles, CA, December 25, 2007 --(
PR.com
)-- Rock Icon's
Bon Jovi
Kick off the new Web Series "On the Road." This new Web Reality Series was created and Produced by
MaxMouth
(www.maxmouth.com) the fastest growing Socially Fueled Broadband Entertainment Networks in the world. MaxMouth is a safe harbor for independent and established artists in Music, Film and TV to continue to develop their brands and build an international fan base and viewing audience while promoting new tours, productions, releases and more.
"On the Road with Bon Jovi" is the series Premier and was shot in Newark, New Jersey at the Bon Jovi 10 Night Stand at the new Prudential Center in October and November 2007. "On the Road with Bon Jovi" is 5 Webisodes with multiple chapters per webisode to watch as many times as you like. The show was created by MaxMouth President Adam Bret and the award winning Director Anthony Bongiovi and the new series boasts an amazing host Anitra Mecadon, who is full of personality and extremely fun to watch.
"On the Road" provides an All Access Pass to music fans and enthusiasts, catching all the behind the scenes action, interviews and some amazing live performances from the best musical acts in the world.
Bon Jovi Opening acts like My Chemical Romance, Big and Rich, Gretchen Wilson, and All American Rejects are all included.
If you're a Bon Jovi fan or just love music, this show really gives you a unique point of view and some very candid interviews and much more.
Visit www.maxmouth.com and register for your free account to view all of 'On the Road with Bon Jovi."
###
Contact
MaxMouth
Adam Bret
404-388-8897
www.maxmouth.com

Contact