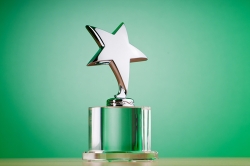 Brookfield, WI, February 02, 2016 --(
PR.com
)-- GSF Mortgage is honored to be named among National Mortgage Professional magazine's Top Mortgage Employers for the second year in row. This list is comprised of America's top 100 mortgage companies nationwide.
The National Mortgage Professional polled readers about their employers based on the following criteria: compensation, speed, marketing support, technology, corporate culture, long-term strategy, day-to-day management, internal communications, training resources, industry participation and innovation. Based on the criteria, the magazine weighed factors that are most important to their readers (ie: factors like marketing support were more important to them than then speed of the company). The results created the Mortgage Employer Company Score (MECS).
"We are very proud to be named among the Top Workplaces by the NMP. We take pride in our workplace and strive to offer the very best work environment for our sales and operations staff. Collectively they are responsible for the overall success of GSF Mortgage. Thank you for recognizing our efforts," says Chad Jampedro, president.
GSF Mortgage Corp. was named among the 2015 INC. 5000 and awarded 2015 Journal Sentinel's Top Workplaces.
GSF Mortgage continues to seek mortgage rockstars for a number of positions throughout the United States including branch managers, mortgage underwriters and mortgage processors. If you are looking for a dynamic company with a great work culture, benefits and a remarkable reputation, please visit gogsf.com/careers.
Founded in 1995, GSF Mortgage is an established and experienced direct mortgage lender. With 20 years of lending experience, GSF professionals originate, process, underwrite, and fund all loans. We continue to serve the next generation of homeowners with the GoGSF brand. We are focused on flexible and transparent mortgage lending and are on a quest to continue hiring the "best of the best" in the mortgage industry. With many locations, our strengths keep GSF Mortgage "Lending in Your Favor". Interested in finding out more about us? Visit us at GoGSF.com and check out our careers available!