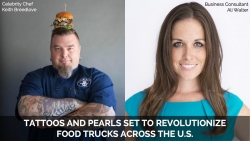 Wesley Chapel, FL, February 05, 2016 --(
PR.com
)-- Celebrity Chef Keith Breedlove Partners with Business Consultant Ali Walter
What started as a battle of backgrounds has transpired into an epic partnership to help food truckers launch and grow thriving businesses. Celebrity Chef Keith Breedlove of The Culinerdy Cruzer Food Truck and Business Consultant Ali Walter of Ali Ann & Co. have announced a formal partnership for Walter's on-going Food Truck Profit Formula coaching program.
Their no filter attitudes and colorful personalities united the unlikely pair - After seeing an ad on Facebook for a food truck training hosted by Ali Ann & Co., Breedlove commented his disbelief that anyone who hasn't owned a food truck could adequately consult on growing them. Walter's reply asserted her client's results and her steadfast commitment to helping food truckers. "People question it all the time, and I totally get it," says Walter. "But business is business, and I've gotten serious results in many businesses I've never actually operated. So now I've figured out how to turn the haters around – I just invite them to get to know me."
Following each other on social media and growing a friendship, Breedlove soon learned how much he and Walter had in common (including tattoos) and that there was way more to Walter than pearls and a kind smile. "She's a f****** bada**," Breedlove proclaims. "A talented and intelligent lady…I've developed some serious respect for her."
Passionate about applying his extensive restaurant and culinary expertise to help others, Breedlove approached Walter with some ideas for working together. Seeing an opportunity she couldn't resist as the pair's personalities and skills soundly complimented one another, Walter invited Breedlove to work with her via the Food Truck Profit Formula program, and beyond.
Excited for she and Breedlove's potential together, Walter explains, "I grew up managing bars and growing teams in restaurants, as well as winning national awards for food marketing. So I know the space like the back of my hand. But having a partner who's in the thick of it every day helps us develop an even deeper connection with our clients, and Keith has some unique solutions that brings a new perspective to our systems and the results we can create for clients."
Food service clients of Ali Ann & Co. will now have access to a team armed to help them create businesses, and lives, of their dreams. With a consultant known for building financially thriving, turn-key companies and a Chef who's renowned culinary expertise precedes him, there is no partnership in the industry that compares. For more information on working with the team, please contact Ali Walter at www.AliAnn.com.
Ali Ann & Co. is a consulting and coaching firm serving clients Nationwide. The company was founded to help service business owners secure healthy and consistent profits while reducing workload so they can achieve total financial security and freedom in their lives.
Contact: Ali Walter or Chef Keith Breedlove
Ali: 727-729-1394 / Keith: 925-858-3738
awalter@aliann.com / keith@culinerdys.com
www.AliAnn.com / www.nerdytruck.com
For Chef Keith Breedlove's background, see the attached enclosure. For Ali Walter's background, visit www.AliAnn.com
Enclosure
Celebrity Chef Keith Breedlove
Owner/Operator of The Culinerdy Cruzer Food Truck
Official Chef of the California State Fair
History
Executive Chef for Hilton Hotels
Regional Executive Chef for Sodexho Corporate Services
Executive Chef & Cookbook Contributor for Nordstrom Cafe Bistro
Corporate Executive Chef for Tex Wasabi's/Johnny Garlic's (Guy Fieri Restaurants)
Guest Chef on Guy's Big Backyard Bite
Culinary Arts Instructor at the Art Institute
2009 ACF Chef of the Year
2009 Winning Team Modesto's Culinary Clash
Media Appearances
Fox 40 Morning Monthly
CW31 Goodday Sacramento
NEWS 10 morning
KCRA 3
FYI's Man Vs. Child: Chef Showdown
Food Network's Cutthroat Kitchen - Finalist
Food Network's Guy's Grocery Games
SpikeTV's Bar Rescue
FYI's Food Factory-Night Shift
KCRA's A-List
Finalist 'Best Food Truck' & 'Best Wedding Caterer'
Mobile-Cuisine(dot)com Runner-up 'Best Food Truck Burger'
Sacramento Bee Feast Cover story
Comstock's Magazine Cover Story