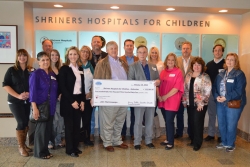 Austin, TX, February 05, 2016 --(
PR.com
)-- Members of the Texas Self Storage Association (TSSA) recently raised more than $150,000 for the Shriners Children's Hospital in Galveston. This Association has raised funds for the hospital for the past 15 years, bringing the total amount raised to-date for the hospital to more than $850,000. This is the largest contribution the organization has made in support of the hospital's work to help burn victims and their families.
A group representing TSSA toured the hospital in Galveston on January 25, 2016. TSSA Fundraising Committee Co-Chairs Doug and David Hunt presented the hospital with funds totaling $152,364, representing the culmination of months-long fundraising efforts.
Also attending were current TSSA volunteer President Paul Glover, Storage Choice and his wife, Misty; Immediate Past President Amy Nolan and Pat Nolan, The Storage Place; TSSA board member Bill Bellomy, Bellomy & Company; Megan Gilbert and Kelsey Morrill, Amazing Spaces Self Storage; Cindy Bellomy, Regal Storage; Jerry Hendrix, CubbyHole Self Storage; Ted Culbreth, SBS Construction; Ann Parham, The Parham Group; Donna Hunt and Trena Hunt of OMC; and Ginny Sutton, TSSA executive director. The group was treated to a private guided tour including areas of the hospital typically off-limits to visitors and were introduced to doctors, nurses and other dedicated staff along the way. Participants toured not only the treatment areas and labs, but also met with researchers responsible for cutting-edge burn treatment research.
"When you see the way the hospital approaches care, treating the whole child, both body and mind, with the goal of returning their life to normalcy, you can't help but be profoundly affected," said fundraising co-chair Doug Hunt. He and his brother, David, have already set their sights on next year's fundraising, with the goal of reaching the $1 million mark in total funds raised. "I definitely think it's within our reach. TSSA members are incredibly generous and this is such a worthy cause. It's an honor to raise funds for this hospital."
The TSSA Fundraising Committee is already making plans for the next campaign, which will take place mainly at the Association's annual conference on October 9-11, 2016 in the Woodlands.
About TSSA
The Texas Self Storage Association was established in 1986 and is a non-profit trade association dedicated to enhancing the quality of the self-storage industry in Texas. The Association provides opportunities for members to increase their knowledge of the self-storage industry through education, research, discussion and exchange of information. For More Information: Texas Self Storage Association –
www.txssa.org
About the Shriners Hospital for Children - Galveston
The Shriners Hospital for Children in Galveston has been a pioneer in burn care since the 1960s. Patients receive advanced care for burn injuries and related scarring, along with physical rehabilitation and emotional support to help them cope with re-entering their school or community after their injury. Care is provided without regard to race, color, creed, sex, sect, disability, national origin or ability to pay.
Contact: Jennifer Taylor, Director of Communications & Marketing
(512) 374-9089 • (888) 259-4902 • Fax (512) 374-9253 • pr@txssa.org • ww.txssa.org