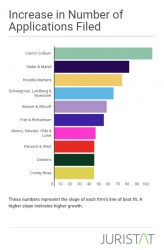 Hartford, CT, February 10, 2016 --(
PR.com
)-- For the last ten years,
Cantor Colburn LLP
has been the fastest growing patent law firm in the country, according to patent analytics and research firm Juristat in its "Rainmaker Firms" blog post on February 4, 2016 (
www.juristat.com/rainmaker-firms
). Juristat measured growth in workload in more than 300 US intellectual property law firms as an indicator of which were "great businesses." Juristat also noted that "our top firm, Cantor Colburn, was the fastest-growing by a significant margin."
"This affirms that our business model, implemented in the mid-1990s, is right for 21st century clients," said Philmore H. Colburn II, Co-Managing Partner. "Companies large and small, universities and research institutes, are all looking for patent firms that provide the highest quality, incredible responsiveness, and value. Clearly, the consistent growth that we've experienced validates our business model."
Michael Cantor, Co-Managing Partner, also noted, "I am particularly pleased that while the firm has grown steadily over the years, we have managed that growth to keep our patent legal services consistent, reliable, and exceptional."
About Cantor Colburn
Cantor Colburn is one of the largest full-service intellectual property law firms in the country, with offices in Hartford, Washington, D.C., Atlanta, Houston, and Detroit. Cantor Colburn is nationally-ranked in litigation, patents, and trademarks. Cantor Colburn's clients are among the leading companies in the country and around the world, including Fortune 100 companies, privately-held companies, select high tech start-ups, and universities. For more information, go to
www.cantorcolburn.com
.