Gathering Ground Announces Free Trials for Nature Classes in Prospect Park
8-Week Spring Season Kicks Off with Free Trial Classes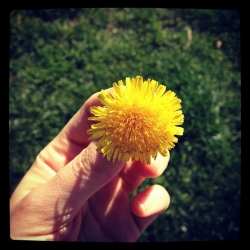 Brooklyn, NY, February 18, 2016 --(
PR.com
)-- Gathering Ground announces their spring season of nature awareness classes in Prospect Park. In each 8-week session, founder and lead guide, Liz Neves, helps participants discover wild edibles and medicinal plants through hands-on activities, nature connection exercises, and mindfulness meditation.
Gathering Ground is a unique experience for city dwellers, where participants get the opportunity to learn about the healing plants growing right at their feet. "Who knew that over the course of six weeks my three-year-old son and I would begin chomping on dandelions and asiatic dayflowers and drying peppergrass to sprinkle on our salad?" said Katie R., a participant in last summer's session. "My reverence for the beauty of Prospect Park and appreciation for all that its plants have to offer us has deepened tremendously."
The spring season starts with free trial classes on two consecutive Fridays at 10am, March 18 and March 25. Participants can register here: http://www.gatheringground.nyc/new-events-1/
The classes are open to both adults and families with children of all ages. Family classes are co-led by children's guide, Julia Hays, who engages curious children so that parents can get the most out of their experience.
Gathering Ground was launched in 2015 by herbalist Liz Neves out of her desire to create a community of mindful, connected parents. "I see it as a way for parents to connect to themselves, their children, and their world, creating a sense of calm, renewal, and stability in our busy urban lives," says Neves.
For further information contact, Liz Neves liz.neves@mac.com
http://www.gatheringground.nyc/
Photos available upon request.
Contact
Gathering Ground
Liz Neves
732-859-2544
www.gatheringground.nyc

Contact