The Funky HomeBoyz Release "That Funky Hip Hop" Mixtape February 19th
The Funky HomeBoyz, a hip hop duo hailing from Queens, New York City, is preparing to drop their most recent studio endeavor this February. The mixtape, entitled "That Funky Hip Hop," will be available on SoundCloud for download upon its release. The duo, which consists of two cousins, Lashaun and Sean, are often referred to as the "Rap Attack Cousins."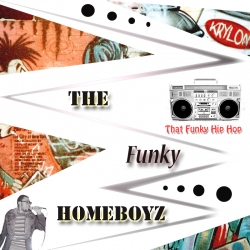 Queens Village, NY, February 22, 2016 --(
PR.com
)-- The Funky HomeBoyz harness an old school freestyle rapping method in their work. They say what comes to their minds in a unique form of free expression akin to classic hip hop. Their music, one could say, is an elegant combination of old school freestyle and modern swagger. The producer of the project, SeanKev, was instrumental in crafting the wholly original, contemporary landscape of 'That Funky Hip Hop.'
The Funky HomeBoyz come from an era of real hip hop where the fundamentals of freestyle are firmly rooted in spontaneous expression. (They don't have to write anything down; their music flows naturally and freely.) Their beats, crafted by SeanKev, are created with that killer, much beloved 'analog sound.'
The outfit embodies the modern 'underground' movement. They strive to be "ghost rappers unseen." This means there aren't any photos or videos of them. They're behind the scenes rappers - a ghost story of sorts. The real experiences of the New York City streets infuse their influence into The Funky HomeBoyz' style of rap, too. They're a duo that brings that raw essence of freestyle rap to the forefront of their music with hard-hitting, intensely funky beats and production.
Within the mantra of their underground style, The Funky HomeBoyz are, in a way, "unexposed to society." The levels of their art remain unaffected by it, contained only to themselves, and their vintage 80s hip hop style is masterfully melded with suave, contemporary musings to create a fresh experience unlike any other.
Fans can follow The Funky HomeBoyz on SoundCloud to keep tabs on the release of 'That Funky Hip Hop.' The album has been released as of Friday, Feb. 19.
https://soundcloud.com/the-funky-homeboyz
Contact
SeanKev Music
Sean Kev
718-808-2584
SeanKev.com

Contact