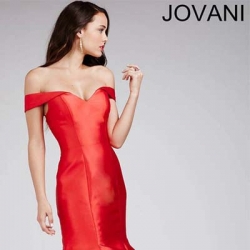 New York, NY, March 01, 2016 --(
PR.com
)--
Jovani
, a top brand for elegant designer dresses, announces the launch of their new apps available for both iPhone and Android. Described as "the go-to destination for all things glamorous," the Jovani Fashion apps allow potential customers on-the-go access to the newest styles from their extensive dress collection.
With the new app, users can browse the catalogue ranging from formal gowns to frilly and fun cocktail dresses in categories including Prom Dresses, Evening Dresses, and Red Carpet Fashion. The app is an excellent resource for all design enthusiasts – offering high resolution images that load quickly and provide an easy way of navigation the exhaustive Jovani collection.
The app also features an option to read more information about the color, fabric, fit, and details of the individual dresses in the catalogue. Available options include the functionality to share the item with friends, and use the store locator to find a Jovani retailer in their area. The app also keeps track of top picks with the 'favorites' option.
Users can also learn about the latest fashion trends from Jovani's design team and enjoy access to exclusive videos, photos, and merchandise. Available for both iOS and Android users, the apps can be downloaded for free through Apple's App Store for both the iPhone and iPad, or through Google Play for Android 3.0 and up.
To download the apps, visit https://itunes.apple.com/us/app/jovani-fashion/id1057081466?mt=8 and https://play.google.com/store/apps/details?id=com.jovani.source&hl=en
For more information, please visit https://www.jovani.com