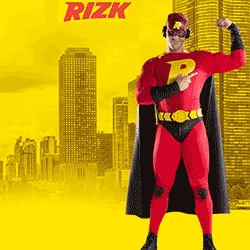 London, United Kingdom, March 04, 2016 --(
PR.com
)-- Rizk is the newest online casino licensed in the UK. Their highly innovative new online casino site features a superhero and the Wheel of Fortune. All new players get the opportunity to spin the Wheel of Rizk aka Wheel of Fortune, where free spins and free money are given out. New Casinos Limited had the pleasure to ask a few questions to Tim Parker, Head of Casino for Rizk. "First of all, New Casinos would like to know how the company came up with such a short and descriptive name," says Markus Jalmerot, Chief Executive of
New Casinos Ltd
.
Tim Parker, the Head of Casino for Rizk replies: "We spent a significant amount of time thinking of a brand name that would be inline with our policies of transparency, which would also reflect clearly what we do and what we are about whilst at the same time creating and impact and being memorable for our players. Rizk is the result.
Rizk casino
is all about removing the nonsense that we see everyday from most new online casinos. This means minimising terms and conditions that are adverse to those that a player would expect, being as transparent as possible, removing as much wagering requirement nonsense as possible whilst building deep gamification concepts interlaced with fun, excitement and a little bit of Rizk to keep our players engaged."
Having a wheel of fortune, where players get free spins, is something totally different from other new Internet casinos. To date, no competitors have anything similar. Mr Parker explains what is unique about Rizk Casino. "The player rewards system at Rizk is very unique, as players play they will level up (normally in around 25-30 minutes of playtime) and each time they level up they are rewarded with the "Wheel of Rizk" (WoR). The WoR gives out prizes based upon the players level of play and will reward anything from 5 Free Spins, through Super Spins and Mega Spins to big Jackpot cash awards. Every prize won from the wheel of Rizk comes with absolutely zero wagering requirements. If a player wants a high-class casino with a unique look and feel that rewards them continuously and without the need for wagering requirements, then Rizk is the casino for them," says Tim Parker.
In order to read a full interview with Rizk, visit the
official site for New Casinos
.