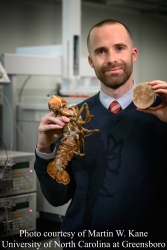 Greensboro, NC, March 04, 2016 --(
PR.com
)-- Kepley BioSystems, a North Carolina start-up, has been awarded a coveted National Science Foundation (NSF) Phase II SBIR grant for developing a synthetic, environmentally neutral alternative to help stem the continued depletion of wild fish; while at the same time, addressing a multi-billion dollar market. The grant has been awarded to the company after successfully competing for Phase I and IB NSF funding for research on a patent-pending, synthetic crustacean bait (#14/659,710 and #PCT/US2015/2086). This grant will enable optimization of this technology to replace the use of wild fish stocks as the primary bait in commercial lobster and crab traps. Crustacean fishing is a $66 billion global market that consumes over 18 million metric tons of bait fish for these traps at a cost of an estimated $20 billion per year.
This new product epitomizes the emerging trend of "Blue Ocean" innovations by merging ecology and enterprise within the currently $500 billion fishing industry. Companies like Kepley BioSystems are working toward significant, sustainable contributions to oceanic species conservation; in addition, these environmentally friendly enterprises are meeting the nutritional and food safety needs of the global seafood market while helping ensure political stability, worldwide.
Bait fish, also known as forage fish, typically include small species, such as menhaden, anchovies, and sardines. The industrial net-fishing industry catches and sells up to one-third of these wild forage fish for the sole purpose of catching other fish, crabs, and lobsters every year. In fact, mounting industrial demand, accelerated by a growing body of research extolling the virtues of these tiny nutritional dynamos, appears to be entirely unsustainable. The Kepley product promises to completely replace the use of fish to catch fish in this segment with a synthetic and environmentally neutral alternative.
In addition to lobster and crab fishing, industrial net fishing for 35 million metric tons of forage fish per annum supplies commercial production in numerous sectors, including: agricultural additives; pig and chicken feed; pet food; fish farming (aquaculture); and Omega 3 supplement oil (with well-documented, collateral loss of dolphin and other unintended by-catch). Second only to the importance and biomass of plankton, forage fish also provide the sole food source for many other fish, mammals, and birds in every region of the world.
"This innovation will help make a difference at the heart of the food chain," explained Professor Kepley. "What is crucial is that these dependent species require approximately half of the world's annual consumption of forage fish for survival."
"It's hardly a mystery to hear of depleted forage fish populations, with emaciated birds, seals, and whales featured in the news," said Dr. Dellinger, president of Kepley BioSystems. "This NSF Phase II grant will support continued laboratory activities. In addition, we are planning extensive field testing to ensure the success of this ecologically urgent innovation." The company is in an advanced stage of product development, and they will seek to further leverage this grant throughout scale up and commercialization by welcoming early investors in the coming months.
About Kepley BioSystems
Kepley BioSystems originated at the Joint School of Nanoscience and Nanoengineering (JSNN), North Carolina A&T State University and The University of North Carolina at Greensboro; the company is now located at the Gateway University Research Park proximal to JSNN. Kepley BioSystems is an academically-driven company led by Professor Christopher Kepley and Dr. Anthony Dellinger, a recent graduate, working in collaboration with lead inventor Terry E. Brady, located on the Caribbean island of Anguilla, British West Indies. For more information, visit: http://www.kepleybiosystems.com/