Dr. Kendall Roehl Joins Memorial Plastic Surgery Group
Dr. Kendall Roehl, board-certified plastic surgeon, has taken the helm at Memorial Plastic Surgery's first branch in Clear Lake opening on March 1, 2016. A fellow of Microsurgery at M.D. Anderson Cancer Center, Dr. Roehl specializes in breast reconstruction and is also experienced in a wide range of plastic surgery procedures on the breast, body, and face.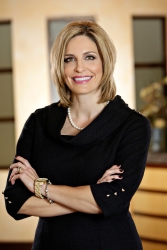 Houston, TX, March 08, 2016 --(
PR.com
)--
Dr. Kendall Roehl
, renowned plastic and reconstructive surgeon from Texas, is the newest addition to the Memorial Plastic Surgery Group's roster of board-certified doctors. She has taken the helm at the plastic surgery clinic's first-ever branch in Clear Lake which opens on March 1, 2016.
As the clinic's founder, Dr. Patrick Hsu said in a statement, "Memorial Plastic Surgery is proud and excited to announce the recruitment of Dr. Roehl into the practice. [She] has been an esteemed colleague and friend for over 10 years and her addition will add tremendous expertise and experience to our diverse group."
Dr. Melissa A. Crosby, distinguished plastic surgeon and partner at MPS, added, "[Dr. Roehl's] reputation as an outstanding surgeon and compassionate physician will no doubt lead to her success at Memorial Plastic Surgery [in Clear Lake]."
The MPS Group's newest member completed her residency at the University of Texas Medical Branch at Galveston and later her fellowship in Microsurgery at the prestigious M.D. Anderson Cancer Center. Since 2010, Dr. Roehl has been certified by the American Board of Plastic Surgeons and has established herself as one of the leading reconstructive micro-surgeons in Texas.
Of her newest designation, Dr. Roehl said, "I could not be more excited to join
Memorial Plastic Surgery
and two people who I love and respect. With our combined efforts, we can make a significant impact on breast reconstruction in the city of Houston and its surrounding areas. With similar goals and vision, we will launch our group onto great things for the future."
The clinic's newest branch, where Dr. Roehl leads, is located in Webster, TX and welcomes patients from Clear Lake and the greater Houston area which includes the surrounding communities of Pasadena, Pearland, League City, Galveston, and Friendswood.
Similar to its Houston counterpart, the Clear Lake office offers a wide range of plastic surgery procedures such as breast augmentation, liposuction, tummy tuck, mommy makeover, and facelift. As a women's health advocate, Dr. Roehl specializes in advanced breast reconstruction surgeries including but not limited to: DIEP flaps, latissimus flap, and reconstruction after nipple-sparing mastectomy.
In line with the grand opening, MPS Clear Lake has launched its own stand-alone website specifically designed to cater to local patients interested in plastic and reconstructive surgery. The new site is responsive and viewable across different media platforms such as smartphones, tablets, laptops, and desktops.
For more information about Memorial Plastic Surgery Clear Lake, visit www.memorialclearlake.com.
About Memorial Plastic Surgery - Houston
Founded in 2013, Memorial Plastic Surgery is the practice of board-certified plastic surgeons Dr. Patrick Hsu and Dr. Melissa A. Crosby based in Houston, Texas. They cater to patients with cosmetic and reconstructive surgery needs with a special focus on the face, breast, and body. Some of the more popular cosmetic procedures performed at the clinic include breast augmentation, tummy tucks, liposuction, mommy makeovers, and breast reconstruction. With fellowships from the MD Anderson Cancer Center, Dr. Hsu and Dr. Crosby also serve breast cancer patients needing reconstructive surgery.
For more information, visit www.memorialplasticsurgery.com. Follow Memorial Plastic Surgery on Facebook and @HoustonSurgeons on Twitter.
Contact
Memorial Plastic Surgery
Patrick Hsu
(713) 633-4411
https://www.memorialplasticsurgery.com

Contact