Strathmore's Who's Who Honors Albert C. Hanna as a 2016 Professional of the Year
Albert C. Hanna, of Chicago, Illinois, was recently recognized as a 2016 Professional of the Year by Strathmore's Who's Who for his outstanding contributions and achievements in the field of Property Rights Litigation and Philanthropy.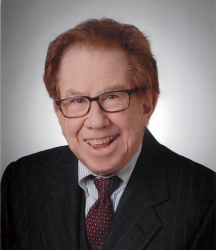 Chicago, IL, March 23, 2016 --(
PR.com
)-- About Albert C. Hanna
Albert C. Hanna was born in 1930 and raised in Wisconsin. Upon his return from military service in Korea, Mr. Hanna has lived in the Lincoln Park community of Chicago for the past 57 years. He has been in commercial mortgage banking since 1960. Between 1960 and 1982, Mr. Hanna was a Senior Officer and Director of Percy Wilson Mortgage and Finance Corp., during which he was the President of its subsidiary company, handling acquired real estate for about ten years. In 1982 he was President and Founder of Mid-North Financial Services, Inc., a $1.4 billion commercial mortgage banking servicing firm that merged in 2004 with Draper and Kramer, a then 110 year old diversified real estate company. Since 1998 and on a pro bono basis, he has challenged the Chicago's "unconstitutional, discriminatory, and exclusionary" downzoning and landmarking practices with lawsuits, which he is winning. Mr. Hanna is a seasoned mountain climber having climbed the seven highest peaks on the seven continents and the oldest person (in 2000 at the age of 70), to have almost reached the 29,036 ft. summit of Mount Everest, missing the peak by only 300 vertical feet.) In 2002, Mr. Hanna was honored by the Boy Scouts of America as a distinguished Eagle Scout, plus 2 Silver Palms and Quartermaster Sea Scout (the first such award presented to any Scout in the Wausau, Wisconsin Council's 86 year history.) In 2003 he was inducted by the 130 year old, then 12,000 member Chicago Association of Realtors into their Hall of Fame, the first and only mortgage banker to be so honored. In 1997 he was honored as Illinois Banker of the Year. All lawsuits have been pursued in the name of property rights, racial equality, housing justice, and increasing the inventory of fair and affordable housing locational opportunities for the poor and minorities. Furthermore, a City of Chicago Council Resolution, adopted September 4, 2003, honored Mr. Hanna as "a visionary leader of great entrepreneurial spirit and accomplishment who has demonstrated an enviable record of professional achievement and civic leadership.
www.albertchanna.org
About Strathmore's Who's Who
Strathmore's Who's Who honors successful individuals in the fields of Business, the Arts and Sciences, Law, Engineering and Government. We honor professional men and women in all academic areas and professions based on one's position and accomplishments. Inclusion is limited to individuals who have demonstrated leadership and achievement in their occupation, industry or profession.
Contact
Strathmore Who's Who
Ann Marie Barone
516-997-2525
www.strathmore-ltd.com

Contact