International Film Festival Brings Industry to Milledgeville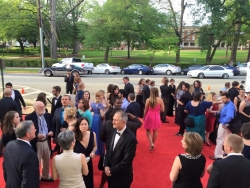 Milledgeville, GA, March 30, 2016 --(
PR.com
)-- For the third year in a row, the Milledgeville Film Festival will bring filmmakers, industry professionals, students and celebrities from across the globe to celebrate the illustrious art of cinema.
This year's festival took in a record-breaking 350 submissions from more than 30 different countries; over double the number films compared to last year's festival.
"Every year we try to take the film festival to the next level by bringing in higher selection of films, more VIP guests and new events," said Jeremiah Bennett, chairman of the Milledgeville Film Festival Board of Directors. "And this year, I feel we definitely accomplished that."
The festival begins on Wednesday, April 13, and concludes Sunday, April 17. Notable events this year include: masquerade party with musical guest, The Norm, "In April" midnight horror film screening at Central State Hospital, awards show hosted by Canadian Actors Angelica Alejandro & Brandon James Sim, a midnight student films screening, a new sci-fi genre film block and block featuring films only shot in Georgia.
For a full list of scheduled events, please visit
www.milledgevillefilmfest.com
or search for the Milledgeville Film Festival on Facebook.
Special guests for this year's festival include: John Heinsen, VP Producer's Guild of America, CEO & Executive Producer of Bunnygraphy Entertainment; David Hartle, producer of ABC Family's "Chasing Life" and "Switched at Birth;" Terry Botwick, Producer "Captive," Founder and CEO of 1019 Entertainment; and Scott Thigpen, COO, Producer and Director at Crazy Legs Productions; Jesse Zwick, Writer/Director "About Alex" and staff writer for "Parenthood."
All industry panels, talks, and workshops are open to the public, however, all screenings, parties and awards show are ticket-only. Tickets are on sale at www.milledgevillefilmfest.com. Attendees are encouraged to pre-purchase their tickets, as tickets will be in high demand.
The Milledgeville Film Festival began in 2013 as a way to bring the growing film industry to Georgia's historic antebellum capital. Its goal is to showcase talent on the rise - from filmmakers to writers, and everywhere in between - and to bring awareness of the film industry to the community of Milledgeville. The Milledgeville Film Festival focuses on community involvement through incorporating local businesses in every aspect of its yearly event planning while also celebrating the atmosphere of middle Georgia.
Contact
Milledgeville Film Festival
Jeremiah Bennett
678-897-1335
milledgevillefilmfest.com

Contact