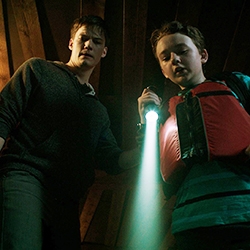 Los Angeles, CA, April 01, 2016 --(
PR.com
)-- After enjoying sold out screenings in Sedona and Sun Valley, "Lost & Found" is thrilled to be a part of The Beverly Hills Film Festival, considered among the most exclusive film festivals in the world; in one of the most exclusive cities in the world. The Beverly Hills Film Festival is proud to play host over an intimate five (5) day affair with over twenty thousand (20,000) attendees.
The cast of this fun family film is led by up-and-comer Justin Kelly who brings a determined focus of talent and charisma to the film's central character. The film is also graced by a delightfully devilish performance by Cary Elwes as the slick smooth talking villain and Benjamin Stockham's performance as the puckishly fun and delightful younger brother is a scene-stealer. Rounding out the cast is Jason Patric. This is the first film he chose to do following his personal legal battle for custody of his son. He brings a deeply heartfelt performance of a man struggling with his own demons and the effects it has on his family.
The film is a bout two teenage brothers Andy and Mark Walton, who are sent to spend the summer with their uncle on a remote island. Once there they learn that their eccentric grandfather once owned the island, but vanished without a trace taking with him the secret to a vast fortune.
As the adventure unfolds, the boys learn that the bonds of family are the most valuable riches of all, and that some family secrets can't stay buried forever.
Scheduled for wide release in late Summer 2016, the film is making its Spring Festival run playing at several festivals across the country.
Please contact us to coordinate interviews and appearances today. Writer/ Director Joseph Itaya, star Benjamin Stockham and Producer Scott Bridges will be available live at the festival. Phone Interviews are available as well.
To learn more about "Lost & Found" go to www.lostandfoundfilm.net
To view the trailer https://youtu.be/1hkyhA5eA4M
"Lost & Found" will screen at The Beverly Hills Film Festival on Thursday, April 7th at 6:30pm at TCL 6 Chinese Theaters in Hollywood.
"Lost & Found" is produced by Enlighten Entertainment Group and Sure Crossing Films and is being distributed by Voltage Pictures and Arc Entertainment. Copyright owned by Lost & Found Film, LLC.