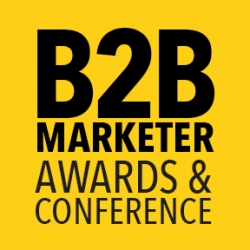 New York, NY, April 05, 2016 --(
PR.com
)-- The B2B Marketer Awards & Conference is pleased to announce the 2016 Awards Finalists. The Awards honor achievement in business-to-business (B2B) marketing by recognizing the organizations and individuals that produced the most outstanding work of the previous calendar year, as evaluated by their peers. The Finalists serve as inspirational leaders within the B2B marketing community.
The Finalists are as follows:
- Best Case Study: Foxtail Marketing for Moxie; motive for Morgan Stanley Institute for Sustainable Investing; and Tracx for Sport Media Challenge and Aleteia
- Best Contribution to Sales Account-Based Marketing: Babcock Jenkins for Tripwire; BESLER Consulting; and Tracx
- Best Email Newsletter or Campaign: Sagefrog Marketing Group for Alpine Cyber Solutions; Tracx for MXM; and ZoomInfo
- Best Explainer Video: Alliance for Downtown New York; JK Design for GfK; JK Design for Merck & Co.; and Quartz for HPE
- Best Hosted Event: Symrise; Quartz; and Zer0 to 5ive for Rocket Fuel
- Best Infographic: Arketi Group for Aptean; CPXi; and Sagefrog Marketing Group for CRO Analytics
- Best Internal Communication: CPXi; gyro; and gyro for Sealed Air
- Best Launch: BESLER Consulting; JK Design for Affiliated Distributors; and Sandstorm Design for Holden International
- Best Product Marketing Collateral: gyro for DCP Midstream; gyro for First Student; and gyro for WOW!
- Best Public Relations or Social Media Campaign: Arketi Group for NCR Small Business / NCR Silver; Golin for Egon Zehnder; Metia for Microsoft; and Walker Sands Communications for Newark element14
- Best Recruitment Marketing Campaign: Altitude Marketing for Cabinet Document Management Solutions; Intent Media; and Sudden Impact Marketing for Verizon
- Best Tradeshow/Conference Booth: Celtic Chicago; gyro for Dawn Foods; and JK Design for Amerlux
- Best Visual Display of Information: gyro for USG; motive for Morgan Stanley Institute for Sustainable Investing and Quartz for GE
- Best Website Landing Page: gyro for KitchenAid; gyro for Sealed Air Corp; and JK Design for Zeus Scientific
The Awards drew entries from a wide array of companies and marketing agencies representing a variety of industries and geographic locations throughout the U.S. "This being our inaugural year, we were astounded — and elated — by the reception we received, including the diversity of entrants, from startups and agencies to Fortune 500 companies," said Dawn Verbrigghe, the event's lead organizer.
Finalists were selected by an independent peer panel of judges, with three Finalists chosen in each of 14 categories. Each entry was evaluated for Originality, Polish, Integration with the sales process or across marketing channels, and demonstrable Results.
"The 2016 judging panel was inspired during the review process and appreciates the substantial investment of passion, creativity and resources by our entrants. While some efforts transcend others, all of this year's submissions reminded us that exceptional B2B marketing has the power to engage, build relationships, educate and deliver outstanding marketing results and business growth," says Ronald Brien, B2B software-as-as-service (SaaS) veteran and Judging Panelist. "We look forward to meeting our peers in New York."
The Awards will be presented at a gala on June 13, 2016 in New York City and are part of The B2B Marketer Conference & Awards event, registration for which is open to everyone in the B2B marketing community. For more information about the Finalists, including a list of team members for each, visit: http://b2bmarketer.net/awards-finalists/.
About The B2B Marketer Awards
The B2B Marketer Awards are part of The B2B Marketer Awards & Conference, a peer-organized event that was created to celebrate, connect and inspire B2B marketers. The event brings together U.S.-based B2B professionals from across marketing disciplines — from marketing communications and demand generation to product marketing and strategy — for a day-long Conference and an evening Awards gala that acknowledges successful work from the previous year. The event will be held in New York City on June 13, 2016. For more information about the event and to register to attend, please visit:
http://b2bmarketer.net
.