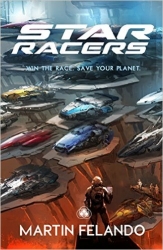 New York, NY, April 08, 2016 --(
PR.com
)-- The Independent Publisher Book Awards, affectionately known as the IPPY Awards, is considered one of the highest honors for independent publishers and authors worldwide.
Sci-fi fantasy novel Star Racers is about battle jet pilots racing to save their planet. Four concept artists created 130 pages of illustrations and artwork, creating a new kind of graphic novel.
Star Racers is a 76,000 word novel intended for teens and young adults.
Author Martin Felando's debut novel Star Racers is the winner of the National Silver Medal for Best Science Fiction at the 2016 IPPY Book Awards.
Concept artist J.C. Park from South Korea created the front book cover illustration.
Concept artist Piotr Foksowicz from Poland created over 60 in-book illustrations and the back cover illustration of Maelae.
19 year old concept artist Zheng Wei Gu from Singapore created in-book illustrations for characters Sashi Oon, Pinky, and a warrior princess Waif Doll.
Concept artist Gordon Studer from San Francisco created over 20 abstract sci-fi icons. His artwork is appears in each of the 65 chapters, as well as the front cover and book spine.