Private Bank of Decatur Adds Front Line Talent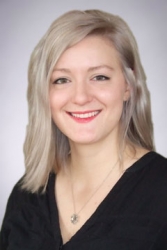 Decatur, GA, April 11, 2016 --(
PR.com
)-- Private Bank of Buckhead, which includes Private Bank of Decatur and PrivatePlus Mortgage, has added Rachel Bryant, as a Peak-Time Teller and Personal Banker. She'll be based out of Private Bank of Decatur, serving clients across the metro area.
"Rachel's biggest asset is her cheerful disposition," says Juanita Marzette, Branch Manager. "While her interactions with our customers may last only a few moments, she has a huge influence on making their day a little brighter."
The Griffin, GA, native earned a Bachelor of Arts degree in Art History from Agnes Scott College and fell in love with Decatur. "I moved away after graduation," she says "and missed it so much that I knew I had to come back." Prior to her current position, Bryant worked as a graphic designer and visual merchandiser at several of Decatur's boutique retail stores.
She married her high school sweetheart, David. Their family includes a two-year-old son, a dog named Akira and a cat named Kuma. "Working part-time affords me a wonderful work/life balance, enabling me to spend more quality time with my family," she says.
Outside of work, Bryant enjoys gardening, cross stitch and knitting, although she admits that carving out time for hobbies with a toddler can be a challenge.
Private Bank of Buckhead brings a private banking approach to all clients across all functions of the bank. The bank – now in its 10th year – is designated a Preferred Lender by the U.S. Small Business Administration, and includes a dedicated mortgage solutions unit, PrivatePlus Mortgage. Private Bank of Buckhead is located in Piedmont Center (Building Three). Private Bank of Decatur is located at 150 East Ponce de Leon Avenue in Decatur, at the corner of Ponce and Church Street. The mortgage division is represented in both Buckhead and Decatur, and does business nationally -- 50 states and the District of Columbia.
Contact
Private Bank of Decatur
Drew Plant
404-634-7102
www.PrivateBankOfDecatur.com

Contact