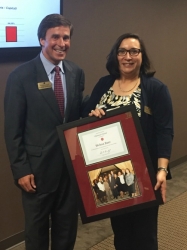 Atlanta, GA, April 10, 2016 --(
PR.com
)-- At its most recent all-hands meeting, Private Bank of Buckhead, which includes Private Bank of Decatur and PrivatePlus Mortgage, recognized Welma Baer with the Chairman's award. She was presented with the award by Charlie Crawford, the bank's President, CEO & Chairman.
"Welma always seeks to learn and improve herself and others," Crawford says, noting that she was one of the original team members who helped open the bank. "She has since been promoted to Deposit Operations Manager and has received her AAP and NCP accreditations. Welma recently directed the bank's upgrade to the new Deposit System with great success."
The five prior recipients of this award in attendance included AVP and Loan Administration Officer Vita Sims, AVP of Loan Operations Ivan Giron, SVP and Controller Renee Hinkson, EVP and Senior Banking Officer Brent Adams and Tawanna Evans, Closing/Post Closing Team Lead in the bank's PrivatePlus Mortgage division.
"This is our top honor for employees like Welma who embody the core values of the bank consistently and operate as role models internally and externally," Crawford says.
Also at the all-hands meeting, employees had the opportunity to recognize some of their fellow team mates, voting Aaron Binion (Vice President and Relationship Manager) Funniest Person, Tawanna Evans (Closing/Post Closing Team Lead) Best Attitude and Brook Benton (Vice President and Mortgage Banker) Best Collaborator.
Bank client Tacos & Tequilas Mexican Grill provided the delicious dinner employees enjoyed at the meeting.
Private Bank of Buckhead brings a private banking approach to all clients across all functions of the bank. The bank – now in its 10th year – is designated a Preferred Lender by the U.S. Small Business Administration. Private Bank of Buckhead is located in Piedmont Center (Building Three). Private Bank of Decatur is located at 150 East Ponce de Leon Avenue in Decatur, at the corner of Ponce and Church Street. PrivatePlus is represented in both Buckhead and Decatur, and does business nationally.