Spring Collections by Carolyn Pollack Jewelry: Sleeping Beauty Turquoise
Designer Carolyn Pollack releases a new line of sterling silver jewelry for Spring.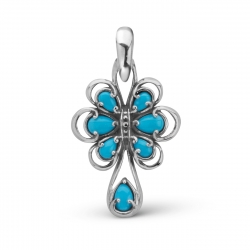 New York, NY, April 18, 2016 --(
PR.com
)-- The Sleeping Beauty Turquoise Collection from Carolyn Pollack for Spring showcases the rare and exquisite turquoise in jewelry that is fresh, colorful, sophisticated. Featuring the complex silver handcrafted quality and scroll design that is synonymous with all Carolyn Pollack Jewelry, there are spring's most wanted: cluster rings, pendants and bar necklaces, drop earrings and ear climbers, cuffs both bold and understated. All are fashionable and classic, and will elevate any outfit, from causal to a more dressed-up look.
For 7000 years, turquoise has been a treasured gem dating back to the Egyptians. The deep, vibrant color of Turquoise is popular year-round, but especially bright in the Spring/Summer seasons. The finest quality and most prized turquoise come from the now-closed Sleeping Beauty Mine in Arizona known for its clear blue color. Carolyn Pollack Jewelry appreciates the significance of being honored to work with the last of these rare and beautiful stones, especially since American Southwest handicraft is so important to the company's heritage. They use only the most skilled, creative artisans to turn them into jewelry that will be appreciated for a lifetime.
Carolyn Pollack is a distinctive jewelry designer whose silver and gemstone creations are all designed and hand-crafted in the U.S.A. She is based in Albuquerque, New Mexico but with a huge e-commerce business across the U.S. Her fans are legion, and collect every piece for a full wardrobe of Carolyn's designs, and also as "timeless heirlooms", sharing from one generation of women to another. Celebrity fans of Carolyn's designs also include Eva Longoria, Jennifer Nettles, Miranda Lambert, and Maria Menounos.
For Spring 2016, Carolyn explores nature and florals as a way to express the simplicity, lightness, and the freedom for colorful expression. As Carolyn says about her new Spring pieces, "I love the romance of pastels (including) Pantone Fashion Colors 2016—Rose Quartz and Serenity Blue—but I also love vibrant colors. New jewelry can breathe the life into the classic, timeless pieces of your wardrobe, or inspire you to mix and match in ways things hanging in our closet you never have before! Our Spring Collections can help you transition to your spring wardrobe."
The entire Spring Collection by Carolyn Pollack is available online at
www.carolynpollack.com
.
About Carolyn Pollack:
Carolyn Pollack Jewelry is America's most beloved designer with versatile jewelry that is genuine, wearable, and unique. Inspired by the creativity and confidence of today's woman, Carolyn Pollack Jewelry beautifully combines unexpected color combinations and sculptural styles with the spirit of timeless style that lives in the heart of this distinctive designer and collector. All jewelry is handcrafted in America with genuine gemstones from around the world with signature designs to help you feel and look fabulous.
Carolyn Pollack Jewelry collections can be found in fine jewelry stores, galleries, resorts, and department stores around the United States as well at www.carolynpollack.com.
Contact
Carol Leggett Public Relations
Karina Kazimierska
212-727-2155
http://carolleggettpr.com/

Contact