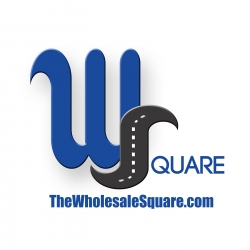 Miami, FL, April 20, 2016 --(
PR.com
)-- The Wholesale Square, or W2, announces its launch into the online pre-owned car sales market, following an exclusive industry gathering at Wind by Neo in downtown Miami on April 28th, from 3-5pm. Unlike other online car sales websites, www.thewholesalesquare.com will feature wholesale vehicles, selling dealers' inventory at auction direct prices. All cars will be Carfax Certified with dealer-to-dealer prices, and come with a 15-day money back guarantee. Customers purchase with confidence and peace of mind, knowing they are dealing with an eco-friendly, professional, and innovative company.
"My inspirations to create this website are many, starting with the lack of transparency in the used car business model," said Founder and Owner, Santiago José Herrera Quijada. "Instead of being enjoyable, the buying process is traumatic for most of the people."
Located in Miami, Florida, the Wholesale Square will offer buyers throughout the USA the opportunity to seamlessly buy cars online without any price haggling, stress, or frustration. With an expansive, best of the best inventory, simple financing process, online trade-in appraisal, and strategically placed W2 service centers, the Wholesale Square is revolutionizing the online car-buying world. The 24/7 website chat tool allows consumers to get real-time answers from an authentic automotive specialist. No waiting. No automated responses. Customers can even make car payments on the Wholesale Square app. The Wholesale Square concept honors all the classic musts from the car business, but incorporates everything the future has to offer.
Santiago José Herrera Quijada is the founder and owner of Wsquare Network, which will serve the three major sectors that he finds people need the most: vehicles, housing, and finance. His business experience is vast as he is the Director/CEO of 31 US LLCs. Moving to the U.S. in 2009, his career began as Director of a family real estate investment firm. Finding the business overwhelming, fast, and lacking in many ways, he was looking for something different. In 2011, he entered the car business with Latin Motors and became obsessed with the industry. His experience with Latin Motors and South Financial Group led him to believe that instead of being stubborn and holding onto the traditional car business model, he needed to create something new that would offer success and opportunity, while satisfying his customers' needs.
"This new business model is inspired by the existing wholesale business-to-business, passing these huge savings to the business-to-customer model. We will provide customers with thousands of vehicles currently available at the dealer auctions. For the first time ever, regular customers can have access to auction inventory, previously only accessible by car dealers. The inventory is updated daily. All our cars pass a 150-point inspection before the delivery, and customers receive a 15-day money-back guarantee and a 90-day/3,000 mile warranty. We deliver the car on a flatbed truck directly to the customer, and a company representative will do all the walk around and delivery. Customers will be able to track their vehicle while in transit via a portable GPS system." - Santiago José Herrera Quijada, Founder/Owner Wsquare Network
The Wholesale Square is thinking of everything to make this a unique, revolutionary, satisfying, and fun car-buying opportunity.