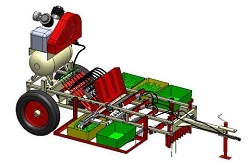 Stockton, CA, April 20, 2016 --(
PR.com
)-- The secret to machine harvesting is simple.
Don't sort the spears on the machine!
By removing the people on the machine that sort the spears, the cost of harvesting is dramatically reduced.
In order to remove the sorting process from the machine, the spears have to be easily transferred to the existing packing shed operation from the machine. That is not possible if the machine fills a lug box with un-oriented spears. The lug box of entangled randomly oriented spears is extremely difficult to untangle.
One must be able to transfer the harvested spears from the machine to the conveyor belt in the packing shed easily.
To do this, the spears have to be all lined up in the same direction in the asparagus lugs so that the spears can be picked up in bunches by hand and placed on the conveyor belt at the packing shed, as it is done now.
The model OR-2017 selective asparagus harvester orients all of the spears with over 90% of them pointing in the same direction in the lug boxes. This makes it easy for the spears to be grabbed up in bunches and dropped onto the conveyor belt at the shed.
Once the oriented spears are on a conveyor in the packing shed it is easy to sort the spears, throwing out the culls and pointing all of the spears in the same direction.
The OR-2017 will harvest any single row planting of asparagus with row centers of 30 inches or larger and with any bed height.
To make a two or three row harvester just pull two or three machines behind one tractor.
Pull two machines with one tractor and asparagus can be harvested for less than 10 cents per pound!
For more information and all the details please visit Geiger-Lund Harvesters' website at
www.asparagusharvester.com
.