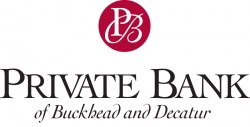 Atlanta, GA, April 26, 2016 --(
PR.com
)-- At its annual meeting April 21, shareholders of Private Bancshares, the parent company of Private Bank of Buckhead, Private Bank of Decatur and PrivatePlus Mortgage heard from President, CEO and Chairman Charlie Crawford, who began by noting that in 2015 the bank had both its largest growth and largest profitability in the bank's history.
"We also achieved a 5 Star Bankrate.com rating," Crawford says. "I would credit that to many things, including our long-term strategic vision on steady, planned growth, and, of course, our top-notch people."
The bank continues to considerably outpace other Atlanta banks in terms of loan growth, profitability (as measured by return on equity) and quality (carrying less than half the non-performing assets than its peers). It also outpaced its peer group statewide.
"As we grow, it is imperative that we continue to uphold the high-touch service we've given clients from Day One," Crawford says. "Both our systematic and anecdotal feedback continue to affirm that we make it easy to become a client, that clients feel the bank knows them and their banking needs and preferences, and that they are comfortable and active in sending us referrals. They continue to rank service, safety/soundness and technology as important parts of their partnership with us. We'll continue to ask how we are doing, always evolving."
Crawford repeatedly sang the praises of the bank's team, which has grown across all units, and reminded attendees of a significant upcoming personnel change: Veteran banker Judy Turner retires as President of Private Bank of Decatur May 31 after a career of more than 51 years. In anticipation of that change, the bank's Brent Adams is working closely with Turner and will serve as her successor. With Adams' promotion to President of Private Bank of Decatur, he will continue to oversee business development for the entire bank and remains Executive Vice President and Chief Banking Officer for Private Bank of Buckhead.
CFO Terry Freeman, who also serves as COO, noted three 2016 strategic priorities for the bank – growing core bank profitability, continue growing the PrivatePlus Mortgage unit, and maintaining asset quality and staying abreast of regulatory changes while continuing to strengthen Enterprise Risk Management.
The annual meeting also saw the re-election of four founding board members – Rick Huddleston, Donny Jackson, Jill Jinks and Jeff Lemming to new three-year terms. Huddleston is a retired financial services executive; Donny Jackson is a retired executive with InterCept, Inc.; Jill Jinks is President & CEO of Insurance House; and Jeff Lemming is Managing Partner of The Caldwell Partners.
Other members of the board are Joel S. Arogeti, President/CEO of Kitchens Kelly Gaynes, PC; Marvin R. Banks, Jr., President of M. Banks Realty Partners and Chairman, BluTrend; Ron Beerman, President of Profitmaster Displays, Inc.; Adolph Casal, Medical Director of Psychiatry at Children's Healthcare of Atlanta; Charlie Crawford, President, CEO and Chairman of Private Bank of Buckhead; M. Bryan Freeman, Founder and President of Habersham Funding, LLC; Jim Givan, retired President and CEO of Design Build Concepts; and John Lewis, Jr., Partner, Lawrence & Bundy, LLC.
Private Bank of Buckhead – now in its 10th year – brings a private banking approach to all clients across all functions of the bank. The bank is designated a Preferred Lender by the U.S. Small Business Administration. Private Bank of Buckhead is located in Piedmont Center (Building Three). Private Bank of Decatur is located at 150 East Ponce de Leon Avenue in Decatur, at the corner of Ponce and Church Street. PrivatePlus Mortgage is represented in both Buckhead and Decatur, and does business nationally – 50 states and the District of Columbia.