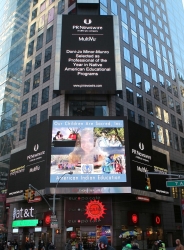 Santa Maria, CA, April 27, 2016 --(
PR.com
)-- About Doni-Jo Minor-Munro
Doni-Jo Minor-Munro is CEO/CFO of Our Children Are Sacred, Inc./American Indian Education Programs. In addition, she is a Native American Spiritualist and Director of Education at the University Life Church. Ms. Minor-Munro attended the University of Oregon, College of Education. She is an advocate for urban Indian rights and laws. Ms. Minor-Munro is affiliated with UNIC and is a member of the National Indian Education Association.
About Strathmore's Who's Who
Strathmore's Who's Who publishes an annual two thousand page hard cover biographical registry, honoring successful individuals in the fields of Business, the Arts and Sciences, Law, Engineering and Government. Based on one's position and lifetime of accomplishments, we honor professional men and women in all academic areas and professions. Inclusion is limited to individuals who have demonstrated leadership and achievement in their occupation, industry or profession. The Times Square appearance is given to the individual who has demonstrated consistent excellence in their career. The visual celebration of this individual will be displayed on digital screens at the venerable and historical 3 Times Square, New York, one of the busiest and most high profile landmarks in the nation.