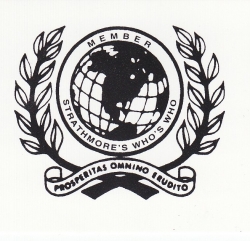 Farmingdale, NY, May 04, 2016 --(
PR.com
)-- Strathmore's Who's Who selects mid to upper level management professionals from companies throughout the United States as well as internationally. In addition, the entire publication is published in a searchable database on this website giving many types of search options.
Based on one's position and lifetime of accomplishments, Strathmore's Who's Who honors professional men and women in all areas and professions. Inclusion is limited to individuals who have demonstrated leadership and achievement in their occupation, industry or profession.
The mission of Strathmore's Who's Who is to encourage and bring together accomplished professionals who can network, research, share information and do business with each other. The internet offers a wonderful means of communication. Strathmore's members take advantage of the website as often as possible and using it as a "letter of introduction" to network with any of the other members that are published there.
Strathmore's Who's Who encourages feedback and enjoys hearing from members about their positive experience.