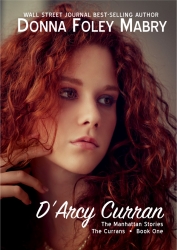 Las Vegas, NV, April 26, 2016 --(
PR.com
)-- Las Vegas based best-selling author Donna Foley Mabry celebrates the release today of "D'Arcy Curran," the fifth book in her popular The Manhattan Stories series. "D'Arcy Curran" is the first of a three volume tale that follows the stories of the Curran family in the small town of Manhattan, Kansas during the mid-19th century.
From the book jacket:
"In 1861, in the small town of Manhattan, Kansas, the Curran girls have expectations of what their lives will be.
D'Arcy, 12, redheaded and freckled, curious and rebellious, wants to grow up and dominate her world.
Suzanne, not yet 18, wants only to marry her handsome lieutenant from Fort Riley, Jonathan Taylor.
The beginning of the Civil War and Suzanne's one night of passion sends everyone's lives in an unexpected direction. Jonathan is sent to the battlefields that will determine the survival of the nation. To avoid scandal in their small town, the girls are sent to Detroit to live with family.
They not only find a welcoming aunt and uncle, they discover a burgeoning city, both ugly and beautiful, rough and cultured, drunk and refined.
As she matures, D'Arcy develops a friendship with the older boy next door, and it changes her opinion of men. Fate throws both girls undreamed-of twists, and D'Arcy is forced to cope. A rash decision changes everything.
Will D'Arcy be prepared for the consequences?"
About the Author:
A Michigan native who studied writing in school, Donna first came to Vegas to make costumes and soon was weaving the stories she heard in the back of the girls' dressing room into her first novel. Now she is the author of "The Alexandra Merritt Mysteries," which include "The Last Two Aces in Las Vegas," "The Las Vegas Desert Flower," "The Las Vegas Special," "Rough Ride in Vegas," "M.I.A. Las Vegas," and the recently released "The Las Vegas Sophisticate."
Her most popular novel, "Maude," the best-selling Kindle Direct Publishing non-fiction work of all time, is a #1 best-seller on Amazon and spent multiple weeks on the Wall Street Journal's Top-10 lists. "Maude" is currently being translated into Russian and German, and was recently released in Italian under the title "Non Avevo Scelta."
Donna has an admired series of historical romances, The Manhattan Stories, "Jessica," "Pillsbury Crossing," "The Cabin," "Kimimela," and released in April "D'Arcy Curran" the first of a three-volume work in the series.
She has written several other stand-alone thrillers, "Desperate Ambition," "The Right Society," and "The Other Hand," and a light-hearted work, "Conversations With Skip," the story of a shelter dog adopted by a young woman having trouble sleeping after her divorce.