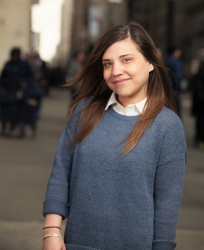 New York, NY, May 02, 2016 --(
PR.com
)--
Sosemo
is pleased to announce that Katie Baldesweiler has joined the digital marketing agency as the new Manager of Search and Media to further bolster capabilities.
Katie will be responsible for managing a team of analysts while helping to lead process improvement efforts across the agency's growing portfolio of regional and national accounts.
"Sosemo appealed to me because I was looking for a company that had a humble and caring culture where I would be able to make a meaningful impact. I come from a long line of big digital advertising agencies that just never felt quite right for me. I wanted to work at a place where I had more responsibility and could make a bigger impact. I also wanted to work at a place that I could grow with, and be at the forefront of when things start to scale up as they are at Sosemo right now. It is so very exciting to be here at this pivotal time."
With a proven track record of success, Katie has provided her clients with best in class service at some of the world's largest digital marketing agencies. Prior to joining Sosemo, Katie worked at iProspect, a leading global performance marketing agency. Before that she was on the Search Marketing teams at Neo@Ogilvy and DigitasLBI, a global marketing and technology agency that transforms businesses for the digital age.
"We couldn't be more thrilled to have Katie on our team. Her background and career path to-date couldn't have been more perfect for the growing needs of our clients and our agency as a whole. With Katie comes an additional layer of expertise in Search Marketing along with an intimate knowledge of big agency process," said Larry Gurreri, Sosemo President. "We expect Katie to be instrumental in helping our agency to streamline and elevate agency operations so that greater emphasis can be placed on strategy and talent development."
Katie managed Search Marketing campaigns for many of the world's most recognized brands including Mead Johnson, SunTrust, Aflac, Nestle, Purina and Diageo. She holds a BA degree in Advertising with a minor in Communication Studies from Rowan University in New Jersey.
The move will allow for Bryan Harris, Director of Search and Media to focus more on client strategy and talent development with Larry Gurreri, Sosemo President focusing on innovation and new business development.
About Sosemo
Sosemo is a boutique digital marketing agency located in New York City. Clients range from Fortune 500 companies to rapidly growing brands to prominent startups. Sosemo stands for social, search and mobile, and is built upon a simple premise: managing effective integrated marketing programs across multiple digital channels starts by having one expert team plan, execute and drive cross-channel integrations. We are that team. Sosemo utilizes a pioneering framework to integrate social, search, and mobile marketing services to ensure that our clients gain maximum value from cross channel synergies. Whether we are managing an acquisition model, customer loyalty program, promotion, or brand development program, we ensure that opportunities for added value through integration are not missed.