EXOVATIONS Celebrates 20th Year of Changing Home Exteriors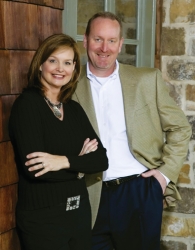 Cumming, GA, May 03, 2016 --(
PR.com
)-- EXOVATIONS®, headquartered in Cumming, Georgia, is commemorating twenty years in the home exterior remodeling business today.
In an industry where few companies remain from the 2007-2010 housing recession, EXOVATIONS somehow managed to not only survive, but to grow and ultimately flourish. While the company took its lumps during those tough years, homeowners sought what EXOVATIONS was selling … the ability to make keeping their current home more desirable.
In early 1996, EXOVATIONS' co-founder Roone Unger was working for a large privately-held building material supply company in Atlanta. When that company sold to a large corporation, several internal structural changes began. Mr. Unger made the decision to leave along with two co-workers, Bitsy Lee and Mary Battle, to start their own business under the original name, Builders Exterior Design.
The quest of the newly formed team was to change homeowners' perceptions of the contracting industry. "When we started the company, our industry had a pretty poor reputation, filled with empty promises, late or broken appointments, and never-ending projects with final price tags that never seemed to resemble the original proposal price," said Roone Unger. "It seemed as though most homeowners had simply grown accustomed to the way the contracting industry was being run and didn't really expect anything to be change. We saw that as a huge opportunity … to be a different kind of contractor who actually delivered what homeowners thought that they could never get in construction: an on-time, on-budget, stress-free remodeling project," Bitsy Lee added.
Today, with a team of 54 employees, the company has not only "changed home exteriors," (the firm's original tagline), both literally and figuratively, but EXOVATIONS has also become an industry leader in best-practices that many competitors try to follow … a company employed project manager designated for each project, an online project portal where homeowners can see their project status 24/7, structured processes, and keeping up with all licenses, insurances and certifications that protect homeowners. It's clear by reading through EXOVATIONS' reviews; however, that they still have a "secret sauce" for their customer experience, as many reviewers praise the company for being "the best experience ever," "the contractor that all others should follow," and "the gold standard in remodeling."
"Needless to say, we are humbled and honored to have had the trust of thousands of homeowners all over the 18-county metro Atlanta area over the past 20 years," Mr. Unger concluded, "and we are well positioned to serve more for 20 more and beyond."
About EXOVATIONS
EXOVATIONS is a State of Georgia Licensed General Contractor and an EPA approved lead-paint certified installer of siding, roofing, windows, doors, decks, porches and complete home exterior facelifts. After 20 years and thousands of completed projects, our customers are still surprised to find a contractor who shows up on time, respects their property, and focuses on solutions rather than high-pressure sales. However, what they really value most is EXOVATIONS ability to deliver on-time, on-budget renovation projects that increase their home's curb appeal without all the stress that is commonly experienced in remodeling.
EXOVATIONS.com
Contact
EXOVATIONS
Heather Heydet
770-205-2995 ext. 233
exovations.com

Contact