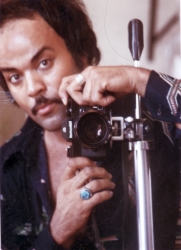 Carson City, NV, May 17, 2016 --(
PR.com
)-- Charles C. Adams of Carson City, Nevada has been recognized as a VIP for 2016 by Strathmore's Who's Who Worldwide for his outstanding contributions and achievements in the field of photography.
About Charles C. Adams
Mr. Adams has over 40 years experience in the photography field. He is the Owner of Charles Adams Photography which is a photography studio in Carson City, Nevada providing photography services, memorabilia and archives nationally. He specializes in photographing people including Hollywood legends, dignitaries, politicians and world renowned Sports greats. Mr. Adams is also responsible for auctioning, writing, film and set decoration. He donated 30 pieces to the Smithsonian Institute for Black Art, Columbia Pictures and the Holabird Western Americana Collections. He was a recipient of the CEBA Award in 1981. Mr. Adams has published over 500 featured photographs. He has had photographs featured in the L.A. Times, Reno Gazette Journal and Nevada Appeal. He also had his photographs featured in "Hello To Me With Love: Poems of Self-Discovery" by C. Tillery Banks. His photos are featured in magazines worldwide, and he has been published in the Herald Examiner. Mr. Adams lectures locally.
Throughout a span of more than 40 years, Mr. Adams has taken photographs of Hollywood's and the world's elite including Sammy Davis Jr., Marvin Gaye, James Brown, Chuck Berry, Marlon Brando, George Burns, Bette Midler, President Barack Obama and others. His ability to capture people's humanity and relay them as every-day people is recognized the world over. He continues to photograph famous individuals, adding his own touch to each piece. Mr. Adams enjoys showcasing his talents and showing the famous in ordinary, "un" famous situations, and continues to provide the William Morrow publishing agency with examples of stars as themselves, unmasked and ordinary.
Mr. Adams was born in Atlanta, Georgia. In his spare time he enjoys film, set decoration and handmade decorative Christmas gift wrap. He is known in the past for hosting holiday parties showcasing his elegantly decorated gifts and Christmas tree based upon the news of the day. Themes have included Mardi Gras and red, white and blue for America's fighting troops. His future plans center around gift wrapping and holiday decorating with the possibility of opening a gift wrapping or decorating store that would be open year round. His service would provide gift wrapping for all occasions and would personalize gifts for the recipients, adding a personal touch factor that is missing in many businesses today. His store would also sell all types of gift wrapping supplies and would offer gift wrapping classes. Mr. Adams believes his background in art and photography will help with this new endeavor and he looks forward to transitioning to a new and exciting period in his life.
For further information, contact www.charlesadamsphotography.com.
About Strathmore's Who's Who Worldwide
Strathmore's Who's Who Worldwide highlights the professional lives of individuals from every significant field or industry including business, medicine, law, education, art, government and entertainment. Strathmore's Who's Who Worldwide is both an online and hard cover publication where we provide our members' current and pertinent business information. It is also a biographical information source for thousands of researchers, journalists, librarians and executive search firms throughout the world. Our goal is to ensure that our members receive all of the networking, exposure and recognition capabilities to potentially increase their business.