EZ Comp Care is Making Workers' Comp Solutions as EZ as 1,2,3...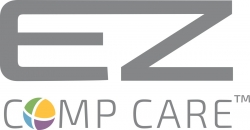 Tampa, FL, May 24, 2016 --(
PR.com
)-- The EZ Comp team, with its 50+ years of combined healthcare and workers comp experience would like to introduce its newly reinvented dental and specialty services programs in the workers' comp space.
In 2002, founder Stacey Whidden created the first national Workers' Comp dental vendor company. She quotes, "Times were different back then; dentists shied away from workers' comp referrals and claims handlers had no experience with dentists. There was no trust. Over the last 14 years, dental claims management has evolved and both dentists and payers with the collaboration of experienced dental vendors have worked together to deliver favorable clinical outcomes. The work comp dental space is now a mature market and ready for a change. Currently dental claims management is costly and time consuming." EZ Dental Care 's fresh approach eliminates unnecessary fees and processes.
EZ Dental Care is providing a fresh approach to managing dental claimsTM. Leane St. Peter, Vice President quotes, "We have developed a fresh approach with new pricing models and processes that makes it easier for customers to access these services and integrate with their current workflows and systems." With an EZ Dental Expert at the helm, injured workers undergo a dental injury assessment and treatment with a workers' comp-friendly dentist. With EZ's super-efficient processes, customers experience reduction in medical costs and expedited care resulting in favorable outcomes with injured workers returning to work promptly. Leon Levy, Vice President of Client Services quotes, "Managing dental claims does not have to be so complicated and costly." EZ Dental proprietary work flow expedites treatment and eliminates cost traditionally associated with a dental claim. EZ's dental network offers nationwide access to all dental specialists necessary to treat a workers' comp claim.
EZ MD + Specialty Services is a product offered to claims handlers who have difficulty securing unique medical specialties and services required to assess and treat their injured worker. EZ's experts have years of experience in dealing with challenges occurring on claims requiring an uncommon or unique specialty or service not assessable through a PPO network.
EZ is a customer centric organization providing services nationwide with experts available 24/7.
Contact
EZ Comp Care, Inc.
Leane St. Peter
855-939-2667
www.ezcompcare.com

Contact