BurgerMonger® Earns Top Prize as Best Burger – Tampa Bay Magazine 2016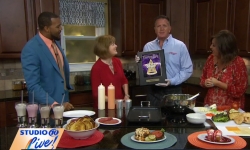 Tampa, FL, June 02, 2016 --(
PR.com
)-- BurgerMonger®, a fresh, fast, casual, family-friendly gourmet hamburger restaurant, recently took top honors in Tampa Bay Magazine's annual survey, "Best of the Bay 2016 – Best Burger." BurgerMonger® emerged victorious from a pool of top local burger restaurants in Tampa Bay, as voted by its readers.
BurgerMonger® General Partner Jake Hickton was presented with a plaque live on WTSP Studio 10.
Hickton introduced the award-winning burger to the hosts.
"The star of the show is the 100% pure Japanese breed beef. It's incredible in quality, above prime and you can taste the difference," he said.
Headquartered in St. Petersburg, Florida, with locations in Carrollwood, Wesley Chapel, Brandon, South Tampa, and Safety Harbor, BurgerMonger® has also garnered praise in the past from Tampa Bay Times' readers, beating out seasoned competitors like Burger21, Five Guys and Red Robin.
BurgerMonger® is unique in the fact that it serves 100 percent Japanese HeartBrand Akaushi Kobe beef. For over a century this beef has only been available in Japan. In 1994, one breeding herd was exported from Japan and launched the HeartBrand Beef line in the states.
A BurgerMonger® partner, HeartBrand is the sole provider of beef for all BurgerMonger® burgers and hot dogs.
"As we only make food that we would love to eat ourselves, we are proud to be recognized as 'Best Burger' by the readers of Tampa Bay Magazine."
For more information on BurgerMonger®, visit BurgerMonger.com, connect on Facebook at the BurgerMonger® fan page, or call 727.457.1542.
About BurgerMonger®
Founded in 2010, with six locations throughout Tampa Bay, Florida, BurgerMonger® is an emerging leader of the fast, fresh casual "better burger" segment. The family-friendly menu features gourmet hamburgers and hot dogs using 100 percent pure Japanese Akaushi Kobe beef, hand-cut French fries made from premium Idaho potatoes, and handcrafted Häagen-Dazs® ice cream shakes and malts. BurgerMonger® guarantees to provide the finest ingredients and superior craftsmanship to result in extraordinary food for their guests. For more information, visit BurgerMonger.com.
Contact
BurgerMonger
Lisa Deptula
727-457-1542
www.burgermonger.com

Contact