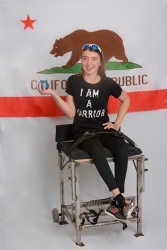 Clovis, CA, June 05, 2016 --(
PR.com
)-- Inclusion of Paralympic Sports Allow a Southern California Girl to Shake Up Misperceptions of What Kids with Disabilities can Achieve.
Before Kendall Stier took center stage representing the Southern Section in the CIF State Track and Field Championships on Friday, she was already a winner. Born with Cerebral Palsy 15 years ago, many didn't expect Kendall to be able to play on a playground, not to mention play at the highest levels in a High School sport. But Kendall had different plans.
So, on Friday evening, when high school freshman Kendall Stier placed 1st and took home the state championship in seated shot put, there weren't many dry eyes to be found.
"I remember when the doctors told me my child would never walk, and suggested that we get Kendall a wheelchair," says mother Shannon Stier, "I was devastated. Her twin Madison was running through the house but Kendall could not even sit up on her own. "
"We told the doctors that we would leave it to Kendall to determine if she needed a wheelchair, and instead went with a walker to assist her with mobility," said her father Mark Stier. "Not only did she get around with the walker, she used it like a gymnast uses parallel bars to suspend herself in mid-air. We knew that there was a fighting spirit and an athlete deep inside her."
That fighting spirit has been critical for Kendall. Doctors told her that if she didn't walk independently by age 6, she would never do so. Kendall took her first steps at age 7 and proved them wrong. When Kendall showed an interest in cheerleading, her mother found a gym that welcomed disabled cheerleaders. With her sister Madison as her cheer buddy at her side, Kendall showed not only could she cheer, but could do so with a team that won a state championship. When Kendall was stuck at the sidelines watching her sister play soccer, Madison pulled her in and became a VIP buddy helping Kendall learn to play in a VIP soccer league.
Fast forward to Kendall's freshman year of High School. CIF now allows permanently disabled student athletes to join the High School team, earn team points, and even earn varsity points for themselves. "When I heard that I could join the Track and Field Team with my twin sister I started screaming," exclaimed Kendall. "Then I heard that I could even earn a varsity jacket, and I could hardly think of anything else. My sister and I wanted those jackets so bad."
With an upper body strength that lends itself to shot put, Kendall's mother volunteered as a coach and they got to work on building a regulation seated throws chair. "We recruited Wounded Warriors who had a metal shop to weld a custom regulation chair for her" said Stier. "We asked USA Olympic coach Rich Robert to help us, and amazingly he was willing to help every step of the way. We practiced and studied on how to throw a 6 lb. shot put from a seated position almost every day since the season started in January."
As always, the twins helped to push each other to their goals. Scoring 35 points total for South Valley League in CIF's Southern Section, Kendall earned her Varsity letter almost twice over. Her sister Madison earned her letter as a freshman as well. "I am really proud of my sister Kendall for always pushing to accomplish things that others don't think she can do. Kendall will always have the last say in what she can and cannot do."
As for Kendall, and what motivates her: "I just want to change people's perceptions of what people with disabilities can do," said Kendall. "I am so thankful to God who gives me strength every day."
At just 15 years old, Kendall still has many years ahead to prove that people with disabilities can achieve amazing things if just given the opportunity to do so.
Contact:
Shannon Stier
Coach
shannonstier@gmail.com
(949) 201-8471