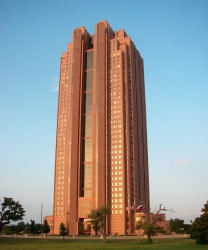 Dallas, TX, June 29, 2016 --(
PR.com
)--
Enforce, LLC
, a North American Implementation Partner to
Ceridian
, is announcing the opening of a world-class solution delivery center in Dallas, Texas.
Enforce has offices in San Francisco and Dallas, serving mid-market Ceridian customers in the implementation of their Dayforce Human Capital Management (HCM) cloud computing solution. Dayforce HCM is a market-leading solution, having earned considerable accolades from analyst and industry groups and with more than 2,600 accounts sold. Dayforce HCM is differentiated as a single application for human capital management with one employee record, one user experience, and no interfaces.
The new solution delivery center is within the Dallas based City Place Tower located at 2711 Haskell Avenue.
Cloud computing removes the need to fragment an implementation consulting practice across many customer locations. To the benefit of customers and the Enforce consulting team, much of the implementation effort can be delivered remotely from the new Dallas solution delivery center.
Enforce's new state-of-the-art solution delivery center enables its consultants to perform a majority of its Dayforce HCM client implementation activities in project team clusters. "The resulting outcome will be a game changer for our consultants and for the customers we serve," said Tim Dilley, President/Co-founder of Enforce. "Nothing replaces face to face meetings with customers during project kickoff and requirements definition, however, by working collaboratively in our solution center, our project teams will complete our customer engagements with the highest level of efficiency and predictability."
The new Enforce solution delivery center possesses numerous features designed to attract, retain and grow the Enforce team. Features include:
· Superior Location – close to downtown Dallas, adjacent to higher education institutions like SMU and within walking distance to the popular Uptown residential and retail area;
· 40 Story City Place Tower – formerly the corporate headquarters of the 7/11 company, this building has been built as a showcase of commerce in Dallas;
· Open Floor Plan – Enforce has modeled this delivery center around an open floor plan (no offices) concept and will allow the company to realize a capacity of 100 Implementation Consultants in Dallas;
· Fitness/Spa – Enforce has partnered with the Larry North Fitness company to provide complimentary memberships to all Enforce employees. The newly renovated fitness facility includes basketball court, yoga studios, spa services, fitness equipment, health choice foods and juices and personalized locker rooms;
· Public Transportation – the Dallas Area Rail Transportation (DART) system services much of Dallas from within the City Place building;
· Parking - Complimentary covered underground parking specific to Enforce employees;
· Conference Center Facilities – Enforce has the ability to host and conduct company events in excess of 300 people while leveraging superior digital optimized building facilities; and
· Amenities - Include but not limited to large cafeteria, dining area complete with palm trees and a view of downtown Dallas, building security, personal services available.
"Teamwork is one of our core company values. We pursued this facility with this value at top of mind. By working together, we are ensured to bring the collective experience of Enforce to each and every customer engagement. No longer will knowledge be silo'ed across many customer locations, our Dallas solution delivery center will be the home of our Dayforce implementation experience and best practices," said Michael McKay, Chief Operating Officer/Co-founder of Enforce.
Enforce has plans to triple its operations this year in both Dallas and San Francisco delivery centers by year-end.
About Enforce
Enforce is leveraging the cloud to build a better consulting firm. Enforce is a proud Implementation Partner of Ceridian and its Dayforce cloud Human Capital Management (HCM) application. Enforce has certified consultants in the Dayforce payroll, benefits, and workforce management solutions.
Learn more about Enforce at
www.enforceconsulting.com