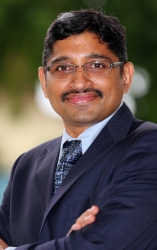 San Diego, CA, June 30, 2016 --(
PR.com
)-- Indevia Accounting announced today that Ravi Padmanabhan has joined the Restaurant Accounting team in Mumbai, India. Ravi joins as the Senior Vice President of Operations and Service Delivery.
Ravi, a Chartered Accountant, is a dynamic and result-oriented professional with over 20 years of experience in Service Deliveries, Financial Management, Accounts, Planning, Costing, Budgeting, Audits, MIS & reporting, Controllership, and Tax Management functions. His proven track record of heading and managing ITES operations, improving operational efficiencies, ensuring smooth workflow processes, and committing to deliverables make him a valuable new addition to the Indevia team.
When asked what he hopes to accomplish in his new role, Ravi said, "My new role is full of exciting opportunities. I am looking forward to making a difference to our clients by giving them a finished product that will help them focus on what they do best – serving others. The Indevia team will handle their financials with the utmost care and create a platform for growth. I'm thrilled to join this partnership."
Indevia founder and CEO Dev Purkayastha said, "Ravi brings to us a wealth of experience in setting up and managing a very demanding business process on an outsourced basis. His training as a Chartered Accountant and in Six Sigma methodology will help us become a service leader in the fast food finance and accounting outsourcing business. His leadership in people and processes will be a key factor in Indevia's continued growth."
About Indevia Accounting
Indevia Accounting has become an industry leader and innovator in the area of Restaurant Accounting and Restaurant Bookkeeping services. Since its inception, Indevia has focused on delighting clients by providing comprehensive Accounting and Strategic Consulting services for restaurant owners.