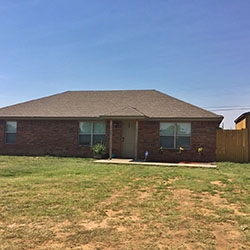 Lubbock, TX, July 01, 2016 --(
PR.com
)-- Genesis Auction Group announces the upcoming auction of a 3/2 brick home on 1/2 acre in Lubbock, TX scheduled to sell on Monday, July 18, 2016 at 2:00pm. This is the first time it is offered on the auction block and is unique as it is outside the city limits – therefore city taxes will not be incurred.
Located at 1511 County Road 7360 Lubbock, TX 79423, this home features 1,479 sq. ft. with plenty of yard space for a shop or swimming pool. Interested parties may join Genesis Auction Group for a home tour on Monday, July 11, 2016 at 4:00pm to view the property before bidding.
"The auction is the only place you get more than you're asking for. We are excited to announce this 3/2 home on the auction block," states Jonathan McGuire.
For more information regarding the property and the terms of the sale, visit
http://www.genesisbid.com/home.html
.
Genesis Auction Group has over two decades of auction experience and has a wealth of knowledge in the auction industry. Jonathan A. McGuire is President of Genesis Auction Group and conducts all auction procedures of the company. He is an auctioneer licensed in the great state of Texas. Jonathan began at the early age of 15 learning the auction industry. In 1996 he graduated from World Wide College of Auctioneers in Mason City, Iowa. Jonathan conducts over 150 auctions annually, including various types of charity auctions. He is a member of the National Auctioneers Association and Texas State Auctioneers Association. For more information contact Jonathan McGuire at (806) 252-6272 or for photos and property details visit
http://www.genesisbid.com/1511-cr-7360.html
.
Contact:
Genesis Auction Group
Jonathan McGuire, Auctioneer
TX Lic. #12315
(806) 252-6272
john@genesisbid.com