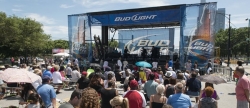 Chicago, IL, July 06, 2016 --(
PR.com
)-- Before Isaiah was involved with music, he was scouted and signed by the LeDom Modeling Agency to pursue a career in the fashion industry. In 2011, after hearing Isaiah sing, they agreed this young man is multi-talented and began promoting his newly discovered talent as a performer on stage and to share his voice with the world.
On 1.11.11 Isaiah's career as a Singer/Songwriter was launched. Throughout his development as a singer Isaiah has performed at well-known venues such as House of Blues, Hard Rock Cafe and Six Flags. He has also sung the "National Anthem" for the opening of the Chicago Fire Soccer Game at Toyota Park. His most recent performances have been at: Brook Field Zoo, Magnificent Mile Light Fest, and Christkindlmarket where he performed his original Christmas song he wrote for the holidays titled "Christmas with You."
John Grass an uncle, knowing Tim McLaughlin a talent manager for Access Entertainment Group asked the agency to please take a look at his nephew's talent. Tim in review of this extremely gifted artist quickly recognized this young man was indeed "the one to watch" and agreed to work with him.
Isaiah has created a large number of followers in the on-line community making him a one of the stars of tomorrow. Due to the phenomenal acceptance Isaiah has received since the launching of his career as a singer, he released a self-titled CD titled: "Expect The Unexpected" to the public. This album contained 13 songs written by Isaiah, full of pop, dance pop songs which helped introduce his music to a wide demographic of listeners around the world reaching over 800,000 views.
Within months of Isaiah's Debut Album being released, he was notified that his music had been accepted onto: Pandora Radio, Spotify, and iTunes. It didn't take long before Isaiah was contacted to do many radio interviews and a television interview on Windy City Live (ABC7) where his music received airplay to many new listeners in the Chicago area. Isaiah recently won the award for "Male Pop Vocalist of the Year" by the International Music Entertainment Awards, and the "Special Achievement Award" at the first annual Chicago Independent Music Awards. Isaiah will be appearing at this years Taste of Chicago Festival July 9th on the Bud Light Stage from 1:20 till 2:20pm at the corner of Columbus and Balboa Streets.
None of this would be possible without the support of Isaiah's team, family, and fans. From Isaiah's own heart he speaks: "I want my music to reach deep into the hearts and souls of all who listen and have it speak to their inner fears, dreams, and hopes. Music should not only be soothing but also a release of tension and a calming influence for what ails us." For more information, please check out Isaiah's website at www.isaiahgrass.com