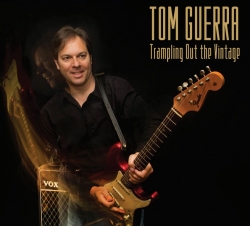 Hartford, CT, July 11, 2016 --(
PR.com
)-- Introducing, Tom Guerra's "Trampling Out the Vintage," a new rock and roll album on Casa Del Soul Records.
The album, which takes its title from "Battle Hymn of the Republic" aka "Glory Glory Hallelujah" features 8 new original songs and two very diverse covers, a newer Bob Dylan tune called "Pay in Blood," and a rocked up version of a song made famous by the late Mama Cass.
Guerra is best known as guitarist songwriter from indie trio Mambo Sons, as well as a contributing writer for Vintage Guitar magazine. He went solo in 2014 with the release of his first solo album, the critically acclaimed "All of the Above," named "Album of the Year" by Cleveland's "Rock and Roll Report."
Like "All of the Above," the musicians accompanying Tom on the new record include former Queen/Mott the Hoople keyboardist Morgan Fisher, Matt Zeiner, former Hammond organist for The Dickey Betts Band and session ace drummer Mike Kosacek. Rounding out the lineup this time is legendary bassist Kenny Aaronson, whose contributions can be heard throughout the record.
Check out "Trampling Out the Vintage," now available on CD from CDBaby, Amazon.com and tomguerra.com, or download from iTunes.